CIBC Increases Canfor Pulp Products Inc (CFX) Price Target to C$15.00
Canfor Pulp Products Inc (TSE:CFX) had its price objective raised by stock analysts at CIBC from C$13.00 to C$15.00 in a research note issued on Thursday. CIBC's target price would suggest a potential upside of 6.91% from the company's previous close.
Separately, Scotiabank decreased their target price on Canfor Pulp Products from C$12.50 to C$12.00 and set a "sector perform" rating on the stock in a report on Thursday, July 27th. Four investment analysts have rated the stock with a hold rating and one has given a buy rating to the stock. The company has an average rating of "Hold" and a consensus price target of C$13.20.
Shares of Canfor Pulp Products (CFX) traded down 0.21% on Thursday, reaching $14.00. The company had a trading volume of 12,500 shares. Canfor Pulp Products has a 12 month low of $9.45 and a 12 month high of $14.20. The stock has a 50 day moving average price of $13.48 and a 200-day moving average price of $12.60. The company has a market capitalization of $919.25 million and a price-to-earnings ratio of 12.13.
Canfor Pulp Products (TSE:CFX) last issued its quarterly earnings results on Wednesday, July 26th. The company reported C$0.31 earnings per share (EPS) for the quarter, missing the consensus estimate of C$0.32 by C($0.01). Canfor Pulp Products had a net margin of 7.19% and a return on equity of 16.14%. The firm had revenue of C$280.90 million for the quarter. Analysts forecast that Canfor Pulp Products will post $1.44 EPS for the current fiscal year.
TRADEMARK VIOLATION NOTICE: "CIBC Increases Canfor Pulp Products Inc (CFX) Price Target to C$15.00" was originally reported by American Banking News and is owned by of American Banking News. If you are accessing this story on another site, it was illegally stolen and reposted in violation of international copyright legislation. The legal version of this story can be viewed at https://www.americanbankingnews.com/2017/10/19/cibc-increases-canfor-pulp-products-inc-cfx-price-target-to-c15-00.html.
About Canfor Pulp Products
Canfor Pulp Products Inc is a supplier of pulp and paper products. The Company operates through two segments: Pulp and Paper. The Company's Pulp segment includes its four pulp mills: the Northwood pulp mill, the Intercontinental pulp mill, pulp produced at the Prince George pulp and paper mill, and the Taylor pulp mill.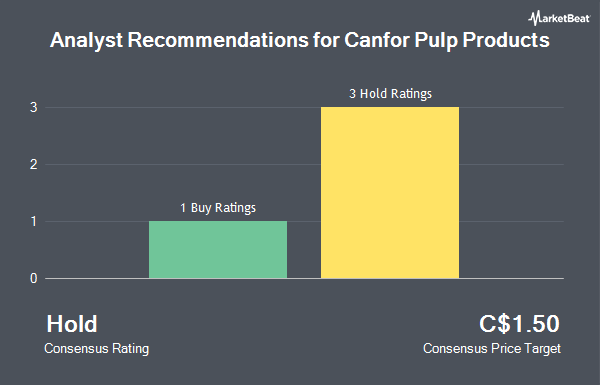 Receive News & Ratings for Canfor Pulp Products Inc Daily - Enter your email address below to receive a concise daily summary of the latest news and analysts' ratings for Canfor Pulp Products Inc and related companies with MarketBeat.com's FREE daily email newsletter.