Brokers Issue Forecasts for Alamos Gold Inc's FY2017 Earnings (AGI)
Alamos Gold Inc (TSE:AGI) (NYSE:AGI) – Investment analysts at National Bank Financial reduced their FY2017 earnings estimates for shares of Alamos Gold in a note issued to investors on Tuesday. National Bank Financial analyst M. Parkin now forecasts that the company will earn $0.13 per share for the year, down from their prior forecast of $0.15. National Bank Financial currently has a "Outperform Market Weight" rating on the stock.
Several other research firms have also commented on AGI. TD Securities boosted their price objective on shares of Alamos Gold from C$12.50 to C$13.50 and gave the stock a "buy" rating in a research report on Friday, August 4th. Raymond James Financial, Inc. boosted their price objective on shares of Alamos Gold from C$12.00 to C$12.50 and gave the stock an "outperform" rating in a research report on Thursday, September 14th. Two analysts have rated the stock with a hold rating and four have assigned a buy rating to the company's stock. The company has a consensus rating of "Buy" and an average price target of C$13.03.
COPYRIGHT VIOLATION WARNING: This news story was originally published by American Banking News and is the sole property of of American Banking News. If you are accessing this news story on another site, it was stolen and republished in violation of United States and international copyright law. The original version of this news story can be read at https://www.americanbankingnews.com/2017/10/20/brokers-issue-forecasts-for-alamos-gold-incs-fy2017-earnings-agi.html.
Alamos Gold (TSE AGI) opened at 8.95 on Friday. Alamos Gold has a 12-month low of $7.86 and a 12-month high of $11.86. The company's 50-day moving average price is $9.03 and its 200-day moving average price is $9.33. The firm's market capitalization is $2.69 billion.
In other Alamos Gold news, insider Colin Webster sold 15,000 shares of the company's stock in a transaction dated Thursday, August 10th. The shares were sold at an average price of C$10.02, for a total value of C$150,300.00. Also, insider James Porter bought 10,000 shares of Alamos Gold stock in a transaction on Wednesday, September 13th. The stock was purchased at an average price of C$8.91 per share, for a total transaction of C$89,100.00.
The company also recently announced a Semi-Annual dividend, which will be paid on Tuesday, October 31st. Shareholders of record on Monday, October 16th will be issued a $0.01 dividend. The ex-dividend date is Friday, October 13th. This represents a yield of 0.12%.
Alamos Gold Company Profile
Alamos Gold Inc is a Canada-based company, which is engaged in the acquisition, exploration, development and extraction of precious metals. The Company's segments include Young-Davidson, Mulatos, El Chanate and Corporate/other. Its Corporate and other segment consists of exploration and development projects.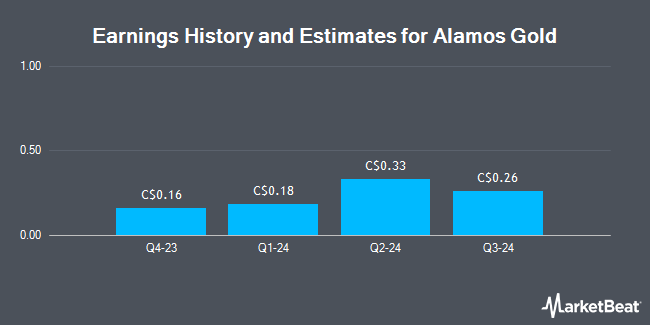 Receive News & Ratings for Alamos Gold Inc Daily - Enter your email address below to receive a concise daily summary of the latest news and analysts' ratings for Alamos Gold Inc and related companies with MarketBeat.com's FREE daily email newsletter.