First Internet Bancorp (INBK) Releases Quarterly Earnings Results, Beats Estimates By $0.08 EPS
First Internet Bancorp (NASDAQ:INBK) released its quarterly earnings data on Thursday. The bank reported $0.71 earnings per share for the quarter, beating the consensus estimate of $0.63 by $0.08, Yahoo Finance reports. The business had revenue of $17.33 million for the quarter, compared to analyst estimates of $16.90 million. First Internet Bancorp had a return on equity of 8.91% and a net margin of 16.58%.
First Internet Bancorp (NASDAQ INBK) traded up 6.9390% during trading on Friday, hitting $36.6266. The stock had a trading volume of 37,763 shares. The company has a market cap of $238.55 million, a P/E ratio of 16.4910 and a beta of -0.06. First Internet Bancorp has a 12-month low of $24.00 and a 12-month high of $37.65. The company has a 50 day moving average of $32.28 and a 200-day moving average of $29.65.
The company also recently disclosed a quarterly dividend, which was paid on Monday, October 16th. Stockholders of record on Friday, September 29th were paid a $0.06 dividend. This represents a $0.24 annualized dividend and a dividend yield of 0.70%. The ex-dividend date was Thursday, September 28th. First Internet Bancorp's dividend payout ratio is currently 10.76%.
INBK has been the topic of several research analyst reports. Keefe, Bruyette & Woods reaffirmed a "buy" rating and issued a $36.00 price objective on shares of First Internet Bancorp in a research note on Monday, June 26th. Zacks Investment Research raised First Internet Bancorp from a "hold" rating to a "strong-buy" rating and set a $34.00 price objective on the stock in a research note on Tuesday, July 25th.
In other news, Chairman David B. Becker bought 5,000 shares of the company's stock in a transaction on Wednesday, September 20th. The shares were bought at an average cost of $30.02 per share, with a total value of $150,100.00. The acquisition was disclosed in a filing with the SEC, which is available through this hyperlink. Also, Director Jerry L. Williams bought 2,100 shares of the company's stock in a transaction on Wednesday, September 20th. The stock was purchased at an average cost of $30.05 per share, for a total transaction of $63,105.00. Following the completion of the transaction, the director now owns 35,836 shares in the company, valued at $1,076,871.80. The disclosure for this purchase can be found here. Corporate insiders own 7.60% of the company's stock.
A hedge fund recently raised its stake in First Internet Bancorp stock. State Street Corp grew its position in First Internet Bancorp (NASDAQ:INBK) by 9.7% during the 2nd quarter, according to the company in its most recent filing with the Securities and Exchange Commission (SEC). The fund owned 78,075 shares of the bank's stock after purchasing an additional 6,924 shares during the period. State Street Corp owned about 1.20% of First Internet Bancorp worth $2,189,000 at the end of the most recent quarter. 45.00% of the stock is currently owned by institutional investors.
ILLEGAL ACTIVITY NOTICE: This report was posted by American Banking News and is the sole property of of American Banking News. If you are accessing this report on another site, it was illegally stolen and republished in violation of United States and international trademark and copyright laws. The legal version of this report can be viewed at https://www.americanbankingnews.com/2017/10/20/first-internet-bancorp-inbk-releases-quarterly-earnings-results-beats-estimates-by-0-08-eps.html.
About First Internet Bancorp
First Internet Bancorp is a bank holding company that conducts its business activities through its subsidiary, First Internet Bank of Indiana (the Bank). The Company offers a complement of products and services on a nationwide basis. The Company conducts its deposit operations primarily over the Internet.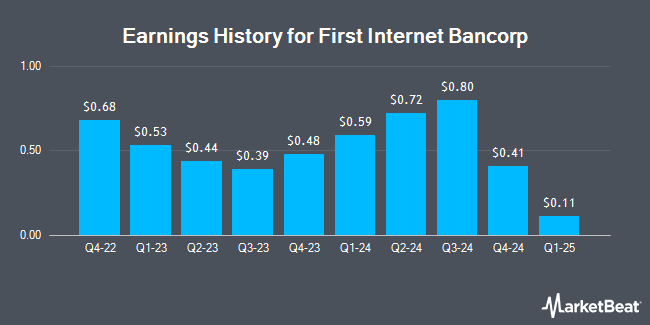 Receive News & Ratings for First Internet Bancorp Daily - Enter your email address below to receive a concise daily summary of the latest news and analysts' ratings for First Internet Bancorp and related companies with MarketBeat.com's FREE daily email newsletter.