Kinross Gold Co. (K) Price Target Raised to C$8.00
Kinross Gold Co. (TSE:K) (NYSE:KGC) had its price objective raised by investment analysts at Canaccord Genuity from C$7.75 to C$8.00 in a report issued on Friday. Canaccord Genuity's price target suggests a potential upside of 48.70% from the company's current price.
Separately, National Bank Financial reiterated a "sector perform market weight" rating on shares of Kinross Gold in a research report on Thursday, August 3rd. One analyst has rated the stock with a sell rating, one has issued a hold rating, four have assigned a buy rating and one has issued a strong buy rating to the company's stock. The stock has a consensus rating of "Buy" and an average target price of C$5.85.
Kinross Gold (K) traded down 2.60% during mid-day trading on Friday, hitting $5.24. 2,219,328 shares of the stock traded hands. Kinross Gold has a 52 week low of $3.87 and a 52 week high of $6.29. The firm has a market cap of $6.53 billion and a P/E ratio of 124.76. The firm's 50-day moving average price is $5.50 and its 200-day moving average price is $5.35.
ILLEGAL ACTIVITY WARNING: This piece was originally posted by American Banking News and is the sole property of of American Banking News. If you are reading this piece on another site, it was stolen and republished in violation of international trademark and copyright law. The original version of this piece can be viewed at https://www.americanbankingnews.com/2017/10/20/kinross-gold-co-k-price-target-raised-to-c8-00.html.
In other news, insider Claude J.S. Schimper sold 25,000 shares of the company's stock in a transaction on Friday, August 18th. The shares were sold at an average price of C$5.59, for a total value of C$139,750.00. Over the last 90 days, insiders sold 52,259 shares of company stock valued at $273,353.
Kinross Gold Company Profile
Kinross Gold Corporation, together with its subsidiaries, engages in the acquisition, exploration, and development of gold properties. The company's gold production and exploration activities are carried out principally in Canada, the United States, the Russian Federation, Brazil, Chile, Ghana, and Mauritania.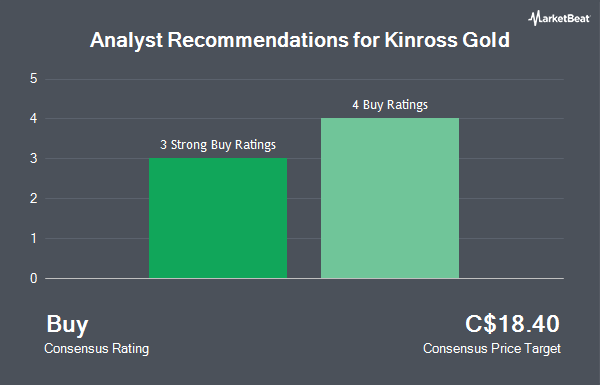 Receive News & Ratings for Kinross Gold Co. Daily - Enter your email address below to receive a concise daily summary of the latest news and analysts' ratings for Kinross Gold Co. and related companies with MarketBeat.com's FREE daily email newsletter.