National Bank Financial Comments on Alacer Gold Corp's Q3 2017 Earnings (ASR)
Alacer Gold Corp (TSE:ASR) – Stock analysts at National Bank Financial issued their Q3 2017 earnings per share (EPS) estimates for shares of Alacer Gold Corp in a note issued to investors on Tuesday. National Bank Financial analyst D. Demarco forecasts that the mining company will earn $0.08 per share for the quarter. National Bank Financial currently has a "Sector Perform Market Weight" rating on the stock. National Bank Financial also issued estimates for Alacer Gold Corp's FY2018 earnings at $0.08 EPS.
ILLEGAL ACTIVITY NOTICE: This report was originally posted by American Banking News and is the sole property of of American Banking News. If you are accessing this report on another domain, it was illegally copied and reposted in violation of US & international copyright & trademark law. The correct version of this report can be accessed at https://www.americanbankingnews.com/2017/10/20/national-bank-financial-comments-on-alacer-gold-corps-q3-2017-earnings-asr.html.
Separately, Raymond James Financial, Inc. restated an "outperform" rating and set a C$3.15 price objective on shares of Alacer Gold Corp in a research note on Thursday, September 21st. Two equities research analysts have rated the stock with a hold rating and three have issued a buy rating to the company. Alacer Gold Corp presently has a consensus rating of "Buy" and an average price target of C$3.40.
Alacer Gold Corp (TSE:ASR) opened at 2.23 on Friday. The firm has a market capitalization of $653.59 million and a PE ratio of 27.88. Alacer Gold Corp has a one year low of $1.75 and a one year high of $3.18. The company's 50-day moving average price is $2.19 and its 200 day moving average price is $2.19.
In other news, Director Thomas Robert Bates acquired 50,000 shares of the stock in a transaction dated Thursday, August 24th. The shares were bought at an average cost of C$2.10 per share, for a total transaction of C$105,000.00.
About Alacer Gold Corp
Alacer Gold Corp. is an intermediate gold mining company. The Company is engaged in mining, development and exploration of mineral deposits in Turkey. The Company's segments include Turkish Business Unit and Corporate and other. It is engaged in the acquisition, exploration and production of gold in Turkey.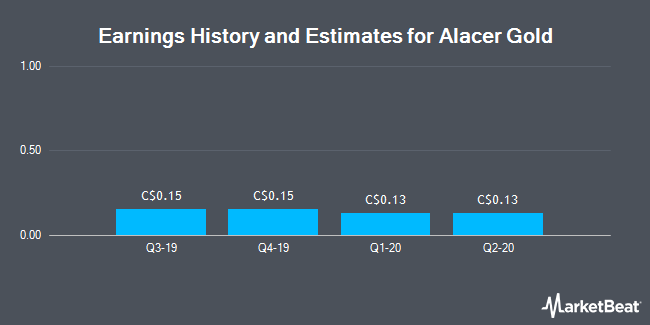 Receive News & Ratings for Alacer Gold Corp Daily - Enter your email address below to receive a concise daily summary of the latest news and analysts' ratings for Alacer Gold Corp and related companies with MarketBeat.com's FREE daily email newsletter.