Iwg Plc (IWG) Given New GBX 200 Price Target at Numis Securities Ltd
Iwg Plc (LON:IWG) had its price target reduced by Numis Securities Ltd from GBX 335 ($4.45) to GBX 200 ($2.66) in a research note issued on Friday. The firm currently has a "hold" rating on the stock. Numis Securities Ltd's price target indicates a potential downside of 8.59% from the company's previous close.
IWG has been the subject of several other reports. Credit Suisse Group reaffirmed an "outperform" rating and set a GBX 435 ($5.78) target price on shares of Iwg Plc in a report on Wednesday, October 11th. Berenberg Bank initiated coverage on Iwg Plc in a report on Thursday, July 27th. They set a "buy" rating and a GBX 430 ($5.71) target price for the company. Finally, Peel Hunt reaffirmed an "add" rating and set a GBX 399 ($5.30) target price (down from GBX 420 ($5.58)) on shares of Iwg Plc in a report on Tuesday, August 8th. One investment analyst has rated the stock with a sell rating, two have assigned a hold rating and three have issued a buy rating to the company's stock. Iwg Plc presently has an average rating of "Hold" and an average target price of GBX 350 ($4.65).
Iwg Plc (LON:IWG) traded up 1.16% during mid-day trading on Friday, reaching GBX 218.80. The company had a trading volume of 11,670,564 shares. The stock's 50-day moving average is GBX 300.15 and its 200 day moving average is GBX 319.77. Iwg Plc has a 12 month low of GBX 201.80 and a 12 month high of GBX 392.00. The firm's market capitalization is GBX 2.01 billion.
TRADEMARK VIOLATION NOTICE: This story was first reported by American Banking News and is the property of of American Banking News. If you are accessing this story on another publication, it was illegally copied and reposted in violation of U.S. & international trademark and copyright laws. The original version of this story can be viewed at https://www.americanbankingnews.com/2017/10/21/iwg-plc-iwg-given-new-gbx-200-price-target-at-numis-securities-ltd.html.
About Iwg Plc
IWG Plc is a Jersey-based workspace company. The Company operates under the Regus, Regus Express, Spaces, Signature, Kora and Open Office brands and provides a global network of places to work for all kinds of businesses from home-based workers to corporations. The Company focuses on both single location and integrated national networks and also provides sales and management services.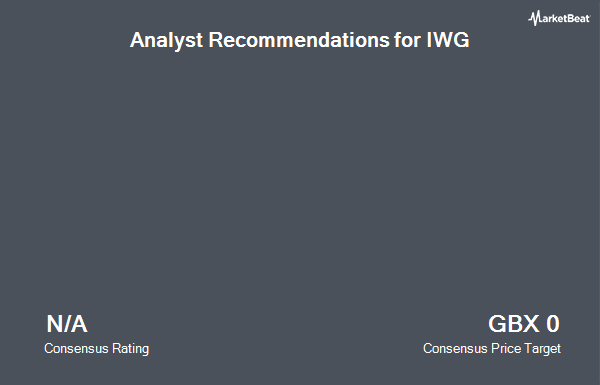 Receive News & Ratings for Iwg Plc Daily - Enter your email address below to receive a concise daily summary of the latest news and analysts' ratings for Iwg Plc and related companies with MarketBeat.com's FREE daily email newsletter.