Insider Buying: Paypoint plc (PAY) Insider Acquires 13 Shares of Stock
Paypoint plc (LON:PAY) insider Lewis Alcraft purchased 13 shares of the company's stock in a transaction on Monday, October 23rd. The stock was acquired at an average cost of GBX 950 ($12.62) per share, for a total transaction of £123.50 ($164.10).
Lewis Alcraft also recently made the following trade(s):
On Tuesday, August 22nd, Lewis Alcraft acquired 13 shares of Paypoint plc stock. The shares were purchased at an average cost of GBX 909 ($12.08) per share, for a total transaction of £118.17 ($157.02).
Shares of Paypoint plc (PAY) traded up 1.08% during mid-day trading on Monday, reaching GBX 934.50. The company had a trading volume of 26,366 shares. Paypoint plc has a 12-month low of GBX 835.50 and a 12-month high of GBX 1,139.00. The stock's market capitalization is GBX 636.72 million. The firm's 50 day moving average is GBX 930.74 and its 200-day moving average is GBX 943.97.
TRADEMARK VIOLATION NOTICE: "Insider Buying: Paypoint plc (PAY) Insider Acquires 13 Shares of Stock" was published by American Banking News and is the property of of American Banking News. If you are reading this piece on another domain, it was copied illegally and republished in violation of US and international trademark and copyright legislation. The legal version of this piece can be read at https://www.americanbankingnews.com/2017/10/23/insider-buying-paypoint-plc-pay-insider-acquires-13-shares-of-stock.html.
Separately, Liberum Capital raised Paypoint plc to a "buy" rating and set a GBX 980 ($13.02) price objective on the stock in a report on Wednesday, July 26th. One equities research analyst has rated the stock with a sell rating, one has given a hold rating and four have issued a buy rating to the company. The company has an average rating of "Buy" and an average target price of GBX 1,062.50 ($14.12).
Paypoint plc Company Profile
PayPoint plc is a United Kingdom-based holding company. The Company's subsidiaries provide specialist consumer payment, and other services and products, transaction processing and settlement. It offers clients streamlined consumer payment processing and transaction routing in an integrated solution, through MultiPay.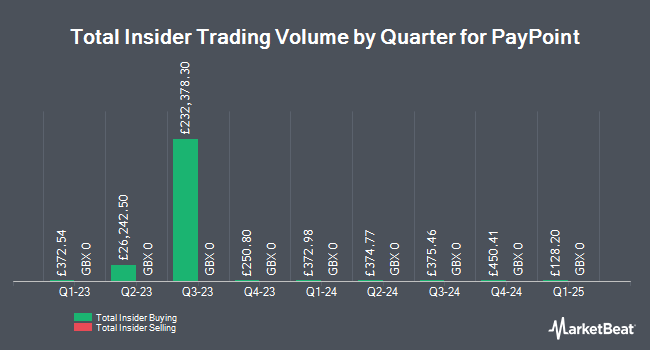 Receive News & Ratings for Paypoint plc Daily - Enter your email address below to receive a concise daily summary of the latest news and analysts' ratings for Paypoint plc and related companies with MarketBeat.com's FREE daily email newsletter.