Whirlpool Corporation (WHR) Issues FY17 Earnings Guidance
Whirlpool Corporation (NYSE:WHR) issued an update on its FY17 earnings guidance on Monday morning. The company provided earnings per share guidance of $13.60-13.90 for the period, compared to the Thomson Reuters consensus earnings per share estimate of $14.62.
Whirlpool Corporation (NYSE WHR) traded up 0.02% during midday trading on Monday, hitting $182.50. 1,483,113 shares of the company traded hands. The stock has a market cap of $13.32 billion, a P/E ratio of 18.27 and a beta of 1.76. Whirlpool Corporation has a 12-month low of $145.91 and a 12-month high of $202.99. The stock has a 50 day moving average of $177.09 and a 200 day moving average of $180.84.
Whirlpool Corporation (NYSE:WHR) last announced its earnings results on Wednesday, July 26th. The company reported $3.35 earnings per share for the quarter, missing the Thomson Reuters' consensus estimate of $3.54 by ($0.19). Whirlpool Corporation had a net margin of 3.61% and a return on equity of 18.17%. The firm had revenue of $5.35 billion for the quarter, compared to the consensus estimate of $5.35 billion. During the same period in the prior year, the business earned $3.50 EPS. The company's quarterly revenue was up 2.9% compared to the same quarter last year. Equities research analysts predict that Whirlpool Corporation will post $14.62 EPS for the current fiscal year.
The company also recently announced a quarterly dividend, which will be paid on Friday, December 15th. Investors of record on Friday, November 17th will be paid a dividend of $1.10 per share. The ex-dividend date is Thursday, November 16th. This represents a $4.40 annualized dividend and a yield of 2.41%. Whirlpool Corporation's dividend payout ratio is currently 44.04%.
Whirlpool Corporation declared that its Board of Directors has authorized a stock buyback plan on Wednesday, July 26th that permits the company to buyback $2.35 billion in shares. This buyback authorization permits the company to reacquire up to 16.7% of its shares through open market purchases. Shares buyback plans are typically a sign that the company's leadership believes its stock is undervalued.
Several research analysts recently weighed in on WHR shares. BidaskClub cut Whirlpool Corporation from a strong-buy rating to a buy rating in a research note on Tuesday, July 25th. Zacks Investment Research cut Whirlpool Corporation from a buy rating to a hold rating in a research note on Friday, July 28th. ValuEngine cut Whirlpool Corporation from a buy rating to a hold rating in a research note on Friday, September 1st. MKM Partners set a $177.00 target price on Whirlpool Corporation and gave the company a hold rating in a research note on Friday, October 6th. Finally, Royal Bank Of Canada reaffirmed a buy rating and set a $209.00 target price on shares of Whirlpool Corporation in a research note on Tuesday, October 10th. One equities research analyst has rated the stock with a sell rating, four have issued a hold rating and four have assigned a buy rating to the company's stock. Whirlpool Corporation presently has an average rating of Hold and an average target price of $192.17.
In related news, Director William D. Perez purchased 1,000 shares of the firm's stock in a transaction that occurred on Monday, July 31st. The stock was acquired at an average price of $176.93 per share, for a total transaction of $176,930.00. Following the transaction, the director now directly owns 7,239 shares of the company's stock, valued at approximately $1,280,796.27. The acquisition was disclosed in a document filed with the Securities & Exchange Commission, which is accessible through this hyperlink. Company insiders own 2.69% of the company's stock.
COPYRIGHT VIOLATION NOTICE: This piece was first published by American Banking News and is owned by of American Banking News. If you are accessing this piece on another website, it was stolen and reposted in violation of international copyright & trademark legislation. The correct version of this piece can be read at https://www.americanbankingnews.com/2017/10/23/whirlpool-corporation-whr-issues-fy17-earnings-guidance-2.html.
About Whirlpool Corporation
Whirlpool Corporation is a manufacturer and marketer of home appliances. The Company's segments include North America; Europe, Middle East and Africa (EMEA); Latin America, and Asia. In North America, the Company markets and distributes home appliances and small domestic appliances under a range of brand names.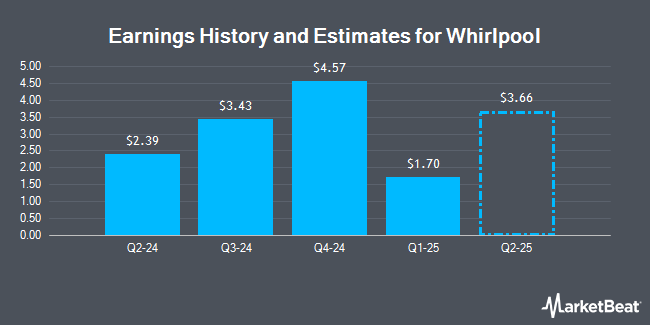 Receive News & Ratings for Whirlpool Corporation Daily - Enter your email address below to receive a concise daily summary of the latest news and analysts' ratings for Whirlpool Corporation and related companies with MarketBeat.com's FREE daily email newsletter.