ABAXIS, Inc. (ABAX) Raises Dividend to $0.16 Per Share
ABAXIS, Inc. (NASDAQ:ABAX) announced a quarterly dividend on Tuesday, October 24th, RTT News reports. Investors of record on Friday, December 1st will be paid a dividend of 0.16 per share by the medical research company on Friday, December 15th. This represents a $0.64 annualized dividend and a yield of 1.38%. This is a boost from ABAXIS's previous quarterly dividend of $0.14.
Shares of ABAXIS (NASDAQ ABAX) traded down 1.66% during midday trading on Tuesday, reaching $46.27. 204,550 shares of the company traded hands. The firm has a market capitalization of $1.05 billion, a P/E ratio of 32.68 and a beta of 0.82. The company has a 50 day moving average of $45.45 and a 200 day moving average of $48.13. ABAXIS has a 12 month low of $43.66 and a 12 month high of $55.95.
ABAXIS (NASDAQ:ABAX) last posted its quarterly earnings results on Monday, October 23rd. The medical research company reported $0.29 earnings per share (EPS) for the quarter, beating the consensus estimate of $0.28 by $0.01. The firm had revenue of $58.90 million for the quarter, compared to analysts' expectations of $60.85 million. ABAXIS had a net margin of 14.12% and a return on equity of 10.85%. The firm's quarterly revenue was up .5% on a year-over-year basis. During the same period in the prior year, the company posted $0.34 earnings per share. On average, equities research analysts predict that ABAXIS will post $1.13 earnings per share for the current fiscal year.
TRADEMARK VIOLATION NOTICE: "ABAXIS, Inc. (ABAX) Raises Dividend to $0.16 Per Share" was reported by American Banking News and is the sole property of of American Banking News. If you are accessing this piece on another publication, it was illegally copied and reposted in violation of US & international trademark and copyright legislation. The legal version of this piece can be read at https://www.americanbankingnews.com/2017/10/24/abaxis-inc-abax-raises-dividend-to-0-16-per-share.html.
Several research firms recently issued reports on ABAX. Bank of America Corporation reaffirmed an "underperform" rating and issued a $42.00 price target on shares of ABAXIS in a report on Wednesday, August 23rd. BidaskClub cut shares of ABAXIS from a "strong-buy" rating to a "buy" rating in a report on Thursday, August 3rd. Zacks Investment Research cut shares of ABAXIS from a "hold" rating to a "sell" rating in a report on Monday, July 31st. Finally, Stifel Nicolaus reaffirmed a "hold" rating and issued a $48.00 price target on shares of ABAXIS in a report on Friday, July 14th. Two research analysts have rated the stock with a sell rating, four have assigned a hold rating and two have given a buy rating to the company. The stock presently has a consensus rating of "Hold" and a consensus target price of $48.63.
About ABAXIS
Abaxis, Inc is a developer, manufacturer and marketer of portable blood analysis systems that are used in medical specialties in human or veterinary patient care to provide clinicians with blood constituent measurements. The Company markets and sells its products around the world through independent distributors and direct sales force.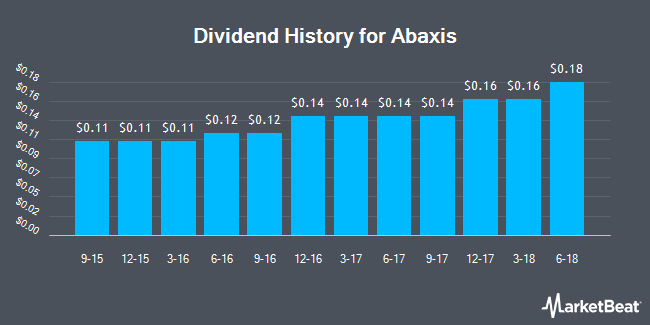 Receive News & Ratings for ABAXIS Inc. Daily - Enter your email address below to receive a concise daily summary of the latest news and analysts' ratings for ABAXIS Inc. and related companies with MarketBeat.com's FREE daily email newsletter.