Arrow Financial Corporation (AROW) Announces Quarterly Earnings Results
Arrow Financial Corporation (NASDAQ:AROW) released its quarterly earnings results on Monday. The financial services provider reported $0.53 earnings per share for the quarter, missing the Thomson Reuters' consensus estimate of $0.54 by ($0.01), MarketWatch Earnings reports. The company had revenue of $26.79 million during the quarter. Arrow Financial Corporation had a net margin of 25.28% and a return on equity of 11.58%.
Arrow Financial Corporation (NASDAQ:AROW) traded up 1.15% on Tuesday, reaching $35.10. 1,567 shares of the company's stock traded hands. Arrow Financial Corporation has a 52-week low of $29.67 and a 52-week high of $40.49. The company's 50 day moving average is $33.52 and its 200-day moving average is $32.12. The stock has a market cap of $488.38 million, a price-to-earnings ratio of 17.99 and a beta of 0.65.
Separately, BidaskClub raised shares of Arrow Financial Corporation from a "sell" rating to a "hold" rating in a report on Monday, July 24th.
COPYRIGHT VIOLATION NOTICE: This news story was published by American Banking News and is the property of of American Banking News. If you are viewing this news story on another website, it was illegally copied and republished in violation of U.S. & international copyright & trademark laws. The original version of this news story can be read at https://www.americanbankingnews.com/2017/10/24/arrow-financial-corporation-arow-announces-quarterly-earnings-results.html.
About Arrow Financial Corporation
Arrow Financial Corporation (Arrow) is a bank holding company. The Company's banking subsidiaries are Glens Falls National Bank and Trust Company (Glens Falls National) and Saratoga National Bank and Trust Company (Saratoga National). It operates in community banking industry segment. The Company's business consists primarily of the ownership, supervision and control of its two banks.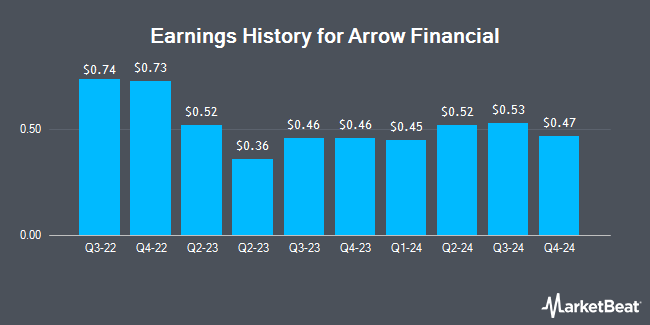 Receive News & Ratings for Arrow Financial Corporation Daily - Enter your email address below to receive a concise daily summary of the latest news and analysts' ratings for Arrow Financial Corporation and related companies with MarketBeat.com's FREE daily email newsletter.