Central Federal Corporation (CFBK) Posts Earnings Results
Central Federal Corporation (NASDAQ:CFBK) announced its earnings results on Monday. The savings and loans company reported $0.03 earnings per share (EPS) for the quarter, Bloomberg Earnings reports. Central Federal Corporation had a return on equity of 4.68% and a net margin of 11.24%. The firm had revenue of $3.70 million for the quarter.
Shares of Central Federal Corporation (CFBK) traded down 1.3893% on Tuesday, hitting $2.4061. The stock had a trading volume of 2,030 shares. Central Federal Corporation has a 12 month low of $1.30 and a 12 month high of $3.64. The firm has a 50 day moving average of $2.51 and a 200 day moving average of $2.26. The stock has a market cap of $39.19 million, a P/E ratio of 40.1017 and a beta of 0.25.
In other Central Federal Corporation news, CEO Timothy T. O'dell acquired 17,956 shares of the company's stock in a transaction that occurred on Thursday, August 17th. The shares were purchased at an average price of $2.16 per share, with a total value of $38,784.96. Following the completion of the acquisition, the chief executive officer now directly owns 450,980 shares of the company's stock, valued at approximately $974,116.80. The acquisition was disclosed in a filing with the Securities & Exchange Commission, which is accessible through this link. Insiders have purchased 29,537 shares of company stock worth $63,904 in the last ninety days. 22.90% of the stock is currently owned by corporate insiders.
WARNING: "Central Federal Corporation (CFBK) Posts Earnings Results" was first reported by American Banking News and is the property of of American Banking News. If you are accessing this piece on another site, it was stolen and reposted in violation of U.S. and international copyright and trademark law. The original version of this piece can be read at https://www.americanbankingnews.com/2017/10/24/central-federal-corporation-cfbk-posts-earnings-results.html.
About Central Federal Corporation
Central Federal Corporation is a holding company of CFBank. CFBank is a national bank. The Company attracts retail and business deposits from the general public and use the deposits, together with borrowings and other funds, primarily to originate commercial and commercial real estate loans, single-family and multi-family residential mortgage loans and home equity lines of credit.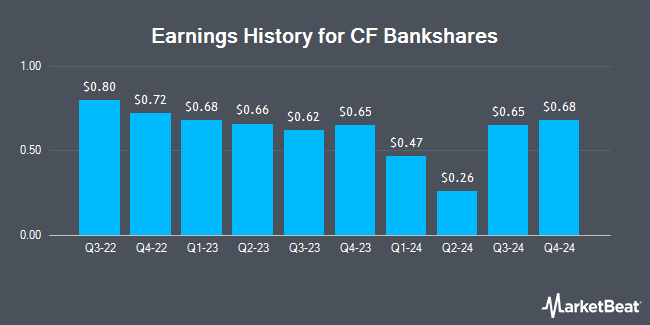 Receive News & Ratings for Central Federal Corporation Daily - Enter your email address below to receive a concise daily summary of the latest news and analysts' ratings for Central Federal Corporation and related companies with MarketBeat.com's FREE daily email newsletter.