Highwoods Properties, Inc. (HIW) Announces Quarterly Earnings Results
Highwoods Properties, Inc. (NYSE:HIW) posted its earnings results on Tuesday. The real estate investment trust reported $0.86 EPS for the quarter, topping the consensus estimate of $0.32 by $0.54, Bloomberg Earnings reports. Highwoods Properties had a net margin of 18.79% and a return on equity of 5.96%. The firm had revenue of $180.19 million during the quarter, compared to analysts' expectations of $177.15 million. During the same quarter in the prior year, the firm earned $0.82 EPS. Highwoods Properties's quarterly revenue was up 8.4% on a year-over-year basis. Highwoods Properties updated its FY17 guidance to $3.36-3.38 EPS.
Highwoods Properties (NYSE HIW) traded down 1.23% on Tuesday, hitting $51.28. 518,335 shares of the stock traded hands. Highwoods Properties has a 12-month low of $45.83 and a 12-month high of $53.34. The stock has a 50-day moving average price of $52.24 and a 200 day moving average price of $51.29. The stock has a market cap of $5.29 billion, a P/E ratio of 40.89 and a beta of 0.89.
The business also recently disclosed a quarterly dividend, which will be paid on Tuesday, December 5th. Stockholders of record on Tuesday, November 14th will be issued a $0.44 dividend. This represents a $1.76 annualized dividend and a dividend yield of 3.43%. The ex-dividend date of this dividend is Monday, November 13th. Highwoods Properties's dividend payout ratio (DPR) is presently 141.94%.
WARNING: This news story was published by American Banking News and is the sole property of of American Banking News. If you are reading this news story on another site, it was stolen and republished in violation of US and international trademark and copyright law. The legal version of this news story can be viewed at https://www.americanbankingnews.com/2017/10/24/highwoods-properties-inc-hiw-announces-quarterly-earnings-results.html.
HIW has been the subject of several recent analyst reports. Bank of America Corporation upped their target price on shares of Highwoods Properties from $57.00 to $58.00 and gave the stock a "buy" rating in a research report on Tuesday, October 3rd. BidaskClub upgraded shares of Highwoods Properties from a "sell" rating to a "hold" rating in a research report on Friday, August 18th. Finally, Janney Montgomery Scott initiated coverage on shares of Highwoods Properties in a research report on Friday, September 8th. They issued a "neutral" rating for the company. Four investment analysts have rated the stock with a hold rating and three have issued a buy rating to the company. The company has an average rating of "Hold" and a consensus target price of $55.50.
About Highwoods Properties
Highwoods Properties, Inc is an office real estate investment trust (REIT). The Company's primary business is the operation, acquisition and development of office properties. The Company's segments include Office and Other. The Company owns, develops, acquires, leases and manages properties primarily in the best business districts (BBDs) of Atlanta, Greensboro, Memphis, Nashville, Orlando, Pittsburgh, Raleigh, Richmond and Tampa.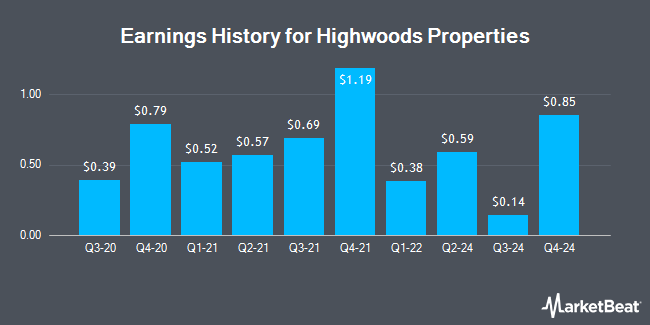 Receive News & Ratings for Highwoods Properties Inc. Daily - Enter your email address below to receive a concise daily summary of the latest news and analysts' ratings for Highwoods Properties Inc. and related companies with MarketBeat.com's FREE daily email newsletter.