Hubbell Inc (HUBB) Issues Quarterly Earnings Results, Beats Estimates By $0.15 EPS
Hubbell Inc (NYSE:HUBB) released its quarterly earnings data on Tuesday. The industrial products company reported $1.65 earnings per share (EPS) for the quarter, beating the consensus estimate of $1.50 by $0.15, Briefing.com reports. The business had revenue of $950.50 million for the quarter, compared to analysts' expectations of $960.28 million. Hubbell had a return on equity of 19.77% and a net margin of 8.23%. The firm's quarterly revenue was up 4.7% on a year-over-year basis. During the same period in the prior year, the firm posted $1.63 EPS. Hubbell updated its FY17 guidance to $5.40-5.50 EPS.
Hubbell (NYSE HUBB) opened at 125.35 on Wednesday. The stock's 50 day moving average price is $116.03 and its 200 day moving average price is $115.52. Hubbell has a 12-month low of $101.61 and a 12-month high of $126.92. The company has a market capitalization of $6.86 billion, a PE ratio of 23.78 and a beta of 1.04.
The company also recently declared a quarterly dividend, which will be paid on Friday, December 15th. Stockholders of record on Thursday, November 30th will be issued a dividend of $0.77 per share. This represents a $3.08 annualized dividend and a dividend yield of 2.46%. This is a boost from Hubbell's previous quarterly dividend of $0.70. The ex-dividend date of this dividend is Wednesday, November 29th. Hubbell's dividend payout ratio is presently 53.03%.
ILLEGAL ACTIVITY NOTICE: "Hubbell Inc (HUBB) Issues Quarterly Earnings Results, Beats Estimates By $0.15 EPS" was originally published by American Banking News and is the property of of American Banking News. If you are viewing this piece on another publication, it was copied illegally and republished in violation of US and international trademark & copyright legislation. The original version of this piece can be read at https://www.americanbankingnews.com/2017/10/24/hubbell-inc-hubb-issues-earnings-results.html.
Several equities analysts recently issued reports on HUBB shares. BidaskClub raised Hubbell from a "strong sell" rating to a "sell" rating in a research report on Friday, September 1st. Zacks Investment Research cut Hubbell from a "buy" rating to a "hold" rating in a research report on Wednesday, October 4th. Wolfe Research started coverage on Hubbell in a research report on Tuesday, July 11th. They issued a "market perform" rating on the stock. Finally, Morgan Stanley reaffirmed an "overweight" rating and issued a $132.00 price objective (up from $130.00) on shares of Hubbell in a research report on Monday, October 2nd. Five investment analysts have rated the stock with a hold rating and one has assigned a buy rating to the company's stock. The stock has an average rating of "Hold" and an average price target of $124.00.
Hubbell declared that its board has authorized a stock repurchase plan on Friday, October 20th that permits the company to buyback $400.00 million in outstanding shares. This buyback authorization permits the industrial products company to purchase shares of its stock through open market purchases. Shares buyback plans are generally a sign that the company's board of directors believes its shares are undervalued.
Hubbell Company Profile
Hubbell Incorporated is engaged in the design, manufacture and sale of electrical and electronic products for a range of non-residential and residential construction, industrial and utility applications. The Company's segments include Electrical and the Power. The Electrical segment consists of businesses that sell stock and custom products, including standard and special application wiring device products, rough-in electrical products, lighting fixtures and controls, components and assemblies for the natural gas distribution market, as well as other electrical equipment.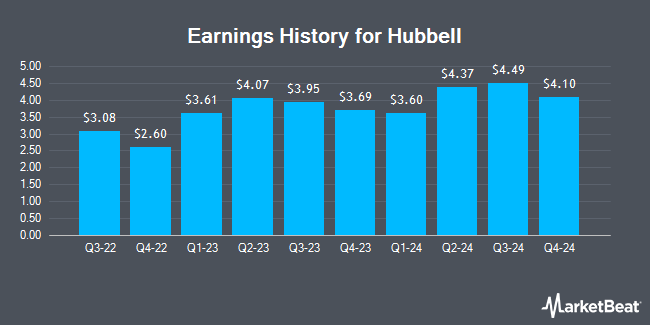 Receive News & Ratings for Hubbell Inc Daily - Enter your email address below to receive a concise daily summary of the latest news and analysts' ratings for Hubbell Inc and related companies with MarketBeat.com's FREE daily email newsletter.