Rollins, Inc. Announces Special Dividend of $0.10 (ROL)
Rollins, Inc. (NYSE:ROL) announced a special dividend on Tuesday, October 24th, RTT News reports. Stockholders of record on Friday, November 10th will be given a dividend of 0.10 per share by the business services provider on Monday, December 11th.
Rollins has raised its dividend payment by an average of 18.6% per year over the last three years and has raised its dividend annually for the last 13 consecutive years. Rollins has a dividend payout ratio of 53.5% meaning its dividend is sufficiently covered by earnings. Equities research analysts expect Rollins to earn $0.97 per share next year, which means the company should continue to be able to cover its $0.46 annual dividend with an expected future payout ratio of 47.4%.
Rollins (NYSE:ROL) traded down 0.99% during mid-day trading on Tuesday, hitting $47.15. 651,290 shares of the stock traded hands. The firm's 50-day moving average is $45.80 and its 200-day moving average is $42.67. The company has a market cap of $10.28 billion, a price-to-earnings ratio of 56.60 and a beta of 0.31. Rollins has a 12-month low of $28.05 and a 12-month high of $48.29.
Rollins (NYSE:ROL) last posted its quarterly earnings data on Wednesday, July 26th. The business services provider reported $0.25 earnings per share for the quarter, meeting analysts' consensus estimates of $0.25. The business had revenue of $433.56 million during the quarter, compared to analyst estimates of $436.81 million. Rollins had a net margin of 11.22% and a return on equity of 30.26%. The company's revenue was up 5.5% on a year-over-year basis. During the same quarter in the previous year, the business posted $0.22 earnings per share. Equities research analysts expect that Rollins will post $0.85 EPS for the current year.
A number of research firms have recently weighed in on ROL. BidaskClub raised shares of Rollins from a "hold" rating to a "buy" rating in a research report on Tuesday, August 8th. Zacks Investment Research raised shares of Rollins from a "hold" rating to a "buy" rating and set a $48.00 price objective for the company in a research report on Saturday, July 29th.
In related news, insider John F. Wilson sold 12,876 shares of the company's stock in a transaction that occurred on Thursday, August 24th. The shares were sold at an average price of $44.60, for a total transaction of $574,269.60. The sale was disclosed in a document filed with the Securities & Exchange Commission, which is available at the SEC website. Corporate insiders own 56.30% of the company's stock.
COPYRIGHT VIOLATION WARNING: "Rollins, Inc. Announces Special Dividend of $0.10 (ROL)" was first published by American Banking News and is the property of of American Banking News. If you are accessing this article on another site, it was illegally stolen and reposted in violation of United States and international copyright & trademark legislation. The correct version of this article can be accessed at https://www.americanbankingnews.com/2017/10/24/rollins-inc-announces-special-dividend-of-0-10-rol.html.
About Rollins
Rollins, Inc is a service company, which operates in pest and termite control business segment. The Company, through its subsidiaries, provides its services to both residential and commercial customers in North America, Australia, and Europe with international franchises in Central America, the Caribbean, the Middle East, Asia, the Mediterranean, Europe, Africa, Canada, Australia, and Mexico.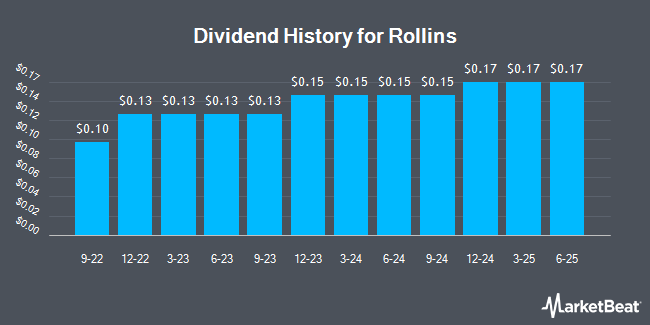 Receive News & Ratings for Rollins Inc. Daily - Enter your email address below to receive a concise daily summary of the latest news and analysts' ratings for Rollins Inc. and related companies with MarketBeat.com's FREE daily email newsletter.