Weir Group (WEIGF) Raised to Outperform at Royal Bank Of Canada
Weir Group (OTCMKTS:WEIGF) was upgraded by research analysts at Royal Bank Of Canada from a "sector perform" rating to an "outperform" rating in a research note issued to investors on Tuesday.
A number of other research firms have also recently weighed in on WEIGF. Canaccord Genuity upgraded shares of Weir Group from a "hold" rating to a "buy" rating in a research report on Tuesday, September 5th. Morgan Stanley reiterated an "equal weight" rating on shares of Weir Group in a research report on Wednesday, July 19th. Two research analysts have rated the stock with a hold rating and four have assigned a buy rating to the stock. The company currently has an average rating of "Buy".
Shares of Weir Group (WEIGF) opened at 24.85 on Tuesday. The firm has a 50-day moving average of $24.39 and a 200-day moving average of $23.88. Weir Group has a one year low of $20.82 and a one year high of $25.35. The company has a market cap of $5.41 billion and a price-to-earnings ratio of 60.91.
TRADEMARK VIOLATION NOTICE: This news story was originally published by American Banking News and is the property of of American Banking News. If you are reading this news story on another domain, it was stolen and republished in violation of US & international trademark and copyright laws. The correct version of this news story can be accessed at https://www.americanbankingnews.com/2017/10/24/weir-group-weigf-raised-to-outperform-at-royal-bank-of-canada.html.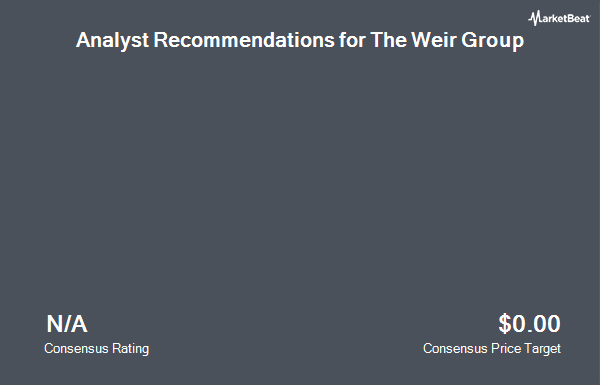 Receive News & Ratings for Weir Group Daily - Enter your email address below to receive a concise daily summary of the latest news and analysts' ratings for Weir Group and related companies with MarketBeat.com's FREE daily email newsletter.