MIND C.T.I. Ltd. (MNDO) Scheduled to Post Earnings on Wednesday
MIND C.T.I. Ltd. (NASDAQ:MNDO) will post its quarterly earnings results before the market opens on Wednesday, November 1st.
MIND C.T.I. (NASDAQ:MNDO) last posted its earnings results on Thursday, July 27th. The information technology services provider reported $0.05 earnings per share (EPS) for the quarter. The firm had revenue of $4.56 million for the quarter. MIND C.T.I. had a return on equity of 20.56% and a net margin of 26.37%. On average, analysts expect MIND C.T.I. to post $0 EPS for the current fiscal year and $0 EPS for the next fiscal year.
Shares of MIND C.T.I. Ltd. (NASDAQ MNDO) opened at 2.74 on Wednesday. The firm's 50 day moving average price is $2.60 and its 200 day moving average price is $2.51. The stock has a market cap of $52.87 million, a P/E ratio of 11.00 and a beta of 0.95. MIND C.T.I. Ltd. has a 52-week low of $2.20 and a 52-week high of $2.94.
ILLEGAL ACTIVITY NOTICE: This piece was originally reported by American Banking News and is the property of of American Banking News. If you are reading this piece on another publication, it was stolen and republished in violation of U.S. & international trademark & copyright laws. The correct version of this piece can be viewed at https://www.americanbankingnews.com/2017/10/25/mind-c-t-i-ltd-mndo-scheduled-to-post-earnings-on-wednesday.html.
MIND C.T.I. Company Profile
Mind C.T.I. Ltd. develops, manufactures, markets and implements real-time and off-line convergent billing and customer care software solutions. The Company offers its solutions for various types of communication providers, including traditional wireline and wireless, voice over Internet Protocol (VoIP), and broadband IP network operators, long-term evolution (LTE) operators, cable operators and mobile virtual network operators (MVNOs).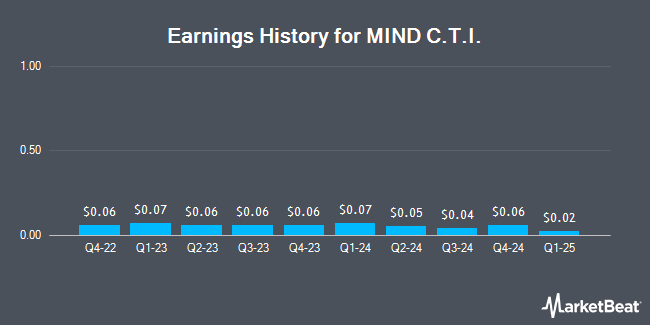 Receive News & Ratings for MIND C.T.I. Ltd. Daily - Enter your email address below to receive a concise daily summary of the latest news and analysts' ratings for MIND C.T.I. Ltd. and related companies with MarketBeat.com's FREE daily email newsletter.