RealNetworks, Inc. (RNWK) to Release Earnings on Wednesday
RealNetworks, Inc. (NASDAQ:RNWK) is set to release its earnings data after the market closes on Wednesday, November 1st.
RealNetworks (NASDAQ:RNWK) last released its quarterly earnings data on Thursday, August 3rd. The technology company reported ($0.09) earnings per share for the quarter, beating the consensus estimate of ($0.21) by $0.12. RealNetworks had a negative return on equity of 36.41% and a negative net margin of 20.48%. The company had revenue of $33.11 million for the quarter, compared to analyst estimates of $30.63 million. During the same period in the prior year, the company posted ($0.09) EPS. On average, analysts expect RealNetworks to post $0 EPS for the current fiscal year and $0 EPS for the next fiscal year.
Shares of RealNetworks, Inc. (RNWK) opened at 4.74 on Wednesday. The stock has a 50 day moving average price of $4.69 and a 200 day moving average price of $4.40. RealNetworks, Inc. has a 1-year low of $3.90 and a 1-year high of $5.45. The company's market capitalization is $176.33 million.
Several research analysts have recently commented on RNWK shares. B. Riley reaffirmed a "buy" rating and set a $6.50 target price on shares of RealNetworks in a report on Sunday, July 23rd. Zacks Investment Research raised shares of RealNetworks from a "sell" rating to a "hold" rating in a report on Wednesday, July 5th.
TRADEMARK VIOLATION NOTICE: "RealNetworks, Inc. (RNWK) to Release Earnings on Wednesday" was originally reported by American Banking News and is the sole property of of American Banking News. If you are reading this article on another site, it was illegally copied and republished in violation of US and international copyright and trademark law. The correct version of this article can be viewed at https://www.americanbankingnews.com/2017/10/25/realnetworks-inc-rnwk-to-release-earnings-on-wednesday.html.
A hedge fund recently raised its stake in RealNetworks stock. State Street Corp lifted its holdings in shares of RealNetworks, Inc. (NASDAQ:RNWK) by 6.2% during the 2nd quarter, according to its most recent disclosure with the Securities and Exchange Commission. The firm owned 470,564 shares of the technology company's stock after purchasing an additional 27,268 shares during the quarter. State Street Corp owned 1.26% of RealNetworks worth $2,038,000 as of its most recent SEC filing. Institutional investors own 51.70% of the company's stock.
About RealNetworks
RealNetworks, Inc creates applications and services that enable to connect with digital media. The Company connects consumers with their digital media directly and through partners, focusing on supporting various network, devices, media types and social networks. It operates through three segments: Consumer Media, Mobile Services and Games.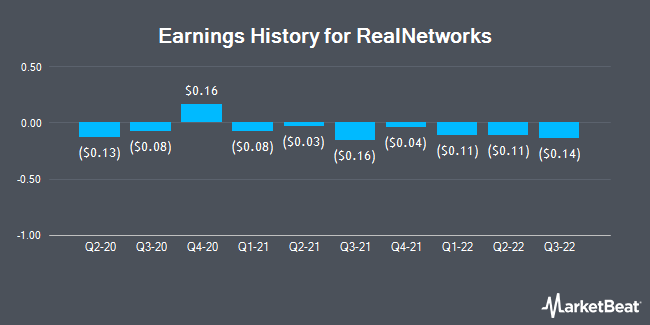 Receive News & Ratings for RealNetworks Inc. Daily - Enter your email address below to receive a concise daily summary of the latest news and analysts' ratings for RealNetworks Inc. and related companies with MarketBeat.com's FREE daily email newsletter.