Houlihan Lokey, Inc. (HLI) to Issue $0.20 Quarterly Dividend
Houlihan Lokey, Inc. (NYSE:HLI) declared a quarterly dividend on Thursday, October 26th, Wall Street Journal reports. Shareholders of record on Monday, December 4th will be paid a dividend of 0.20 per share by the financial services provider on Friday, December 15th. This represents a $0.80 annualized dividend and a yield of 1.94%. The ex-dividend date of this dividend is Friday, December 1st.
Houlihan Lokey has a dividend payout ratio of 40.4% meaning its dividend is sufficiently covered by earnings. Equities research analysts expect Houlihan Lokey to earn $2.22 per share next year, which means the company should continue to be able to cover its $0.80 annual dividend with an expected future payout ratio of 36.0%.
Shares of Houlihan Lokey (HLI) traded down 4.70% on Thursday, reaching $41.33. The company's stock had a trading volume of 2,092,301 shares. The company has a market cap of $2.77 billion, a P/E ratio of 21.43 and a beta of 0.36. The company's 50 day moving average price is $38.88 and its 200 day moving average price is $35.99. Houlihan Lokey has a 12-month low of $23.19 and a 12-month high of $44.15.
Houlihan Lokey (NYSE:HLI) last posted its quarterly earnings data on Tuesday, October 24th. The financial services provider reported $0.56 earnings per share for the quarter, beating the Thomson Reuters' consensus estimate of $0.41 by $0.15. The business had revenue of $242.20 million for the quarter, compared to analysts' expectations of $207.72 million. Houlihan Lokey had a return on equity of 18.63% and a net margin of 14.10%. The business's revenue was up 29.9% on a year-over-year basis. During the same period in the previous year, the firm posted $0.37 EPS. Analysts forecast that Houlihan Lokey will post $2.11 EPS for the current fiscal year.
Several analysts have weighed in on the company. UBS Group AG lifted their price objective on Houlihan Lokey from $44.00 to $47.00 and gave the company a "buy" rating in a research report on Wednesday. Bank of America Corporation lifted their price objective on Houlihan Lokey from $40.00 to $44.00 and gave the company a "neutral" rating in a research report on Wednesday. BidaskClub cut Houlihan Lokey from a "buy" rating to a "hold" rating in a research report on Thursday, August 10th. Keefe, Bruyette & Woods reissued a "buy" rating on shares of Houlihan Lokey in a research report on Tuesday, October 3rd. Finally, TheStreet raised Houlihan Lokey from a "c" rating to a "b-" rating in a research report on Monday, August 14th. One equities research analyst has rated the stock with a hold rating, six have given a buy rating and one has given a strong buy rating to the stock. The company presently has a consensus rating of "Buy" and an average price target of $42.33.
In other news, major shareholder Orix Hlhz Holding Llc sold 686,760 shares of the business's stock in a transaction that occurred on Thursday, September 14th. The stock was sold at an average price of $36.26, for a total value of $24,901,917.60. The sale was disclosed in a legal filing with the SEC, which can be accessed through this link. Insiders own 69.70% of the company's stock.
WARNING: This piece of content was originally published by American Banking News and is the property of of American Banking News. If you are reading this piece of content on another publication, it was illegally stolen and republished in violation of US and international copyright law. The correct version of this piece of content can be viewed at https://www.americanbankingnews.com/2017/10/26/houlihan-lokey-inc-hli-to-issue-0-20-quarterly-dividend.html.
About Houlihan Lokey
Houlihan Lokey, Inc is a global independent investment bank that focuses on mergers and acquisitions (M&A), capital markets, financial restructuring, valuation, and strategic consulting. The Company operates through four segments: Corporate Finance, Financial Restructuring, Financial Advisory Services and Strategic Consulting.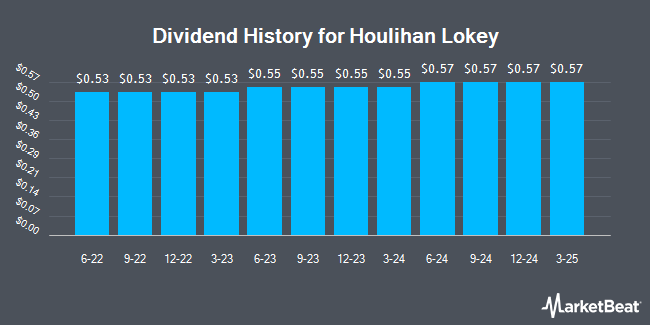 Receive News & Ratings for Houlihan Lokey Inc. Daily - Enter your email address below to receive a concise daily summary of the latest news and analysts' ratings for Houlihan Lokey Inc. and related companies with MarketBeat.com's FREE daily email newsletter.