Viad Corp (VVI) Posts Earnings Results, Beats Expectations By $0.02 EPS
Viad Corp (NYSE:VVI) issued its quarterly earnings results on Thursday. The business services provider reported $1.33 earnings per share (EPS) for the quarter, topping the Zacks' consensus estimate of $1.31 by $0.02, Bloomberg Earnings reports. The firm had revenue of $339.10 million for the quarter, compared to analyst estimates of $327.59 million. Viad Corp had a return on equity of 16.76% and a net margin of 4.85%. The business's revenue was down 11.3% on a year-over-year basis. During the same period in the previous year, the company posted $1.74 earnings per share. Viad Corp updated its Q4 guidance to ($0.35-0.25) EPS.
Shares of Viad Corp (VVI) traded down 0.33% during midday trading on Thursday, hitting $60.90. The stock had a trading volume of 60,673 shares. The stock has a 50-day moving average price of $59.01 and a 200-day moving average price of $50.63. The stock has a market cap of $1.24 billion, a P/E ratio of 19.21 and a beta of 0.52. Viad Corp has a 12-month low of $36.20 and a 12-month high of $61.85.
The company also recently disclosed a quarterly dividend, which was paid on Monday, October 2nd. Stockholders of record on Friday, September 8th were paid a $0.10 dividend. The ex-dividend date was Thursday, September 7th. This represents a $0.40 dividend on an annualized basis and a dividend yield of 0.66%. Viad Corp's payout ratio is presently 12.62%.
A number of equities analysts recently commented on the company. BidaskClub upgraded Viad Corp from a "buy" rating to a "strong-buy" rating in a research report on Monday, July 24th. Zacks Investment Research downgraded Viad Corp from a "strong-buy" rating to a "hold" rating in a research report on Thursday, September 28th.
COPYRIGHT VIOLATION NOTICE: This story was first posted by American Banking News and is owned by of American Banking News. If you are viewing this story on another site, it was stolen and republished in violation of U.S. and international trademark and copyright legislation. The original version of this story can be read at https://www.americanbankingnews.com/2017/10/26/viad-corp-vvi-posts-earnings-results-beats-expectations-by-0-02-eps.html.
Viad Corp Company Profile
Viad Corp is an international experiential services company. The Company operates through two main business groups: GES, which is a live event service provider to some of the visible and influential events and global brands, and Pursuit, which is a collection of destination travel experiences. GES conducts its operations through two geographical segments: GES U.S., which has full-service operations in exhibition market in the United States, including Las Vegas, Nevada; Chicago, Illinois; Orlando, Florida; New York, New York, and Los Angeles, California, and GES International, which had full-service operations at many of the event destinations and venues.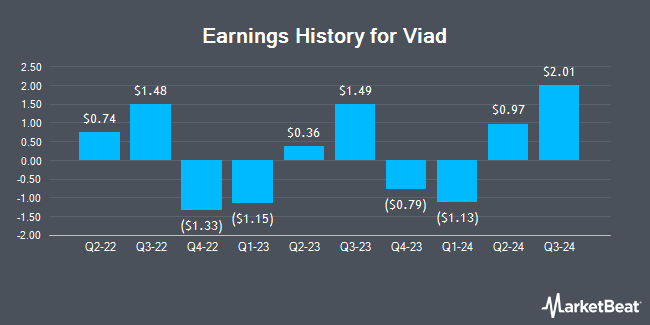 Receive News & Ratings for Viad Corp Daily - Enter your email address below to receive a concise daily summary of the latest news and analysts' ratings for Viad Corp and related companies with MarketBeat.com's FREE daily email newsletter.