Churchill Downs, Incorporated (CHDN) Increases Dividend to $1.52 Per Share
Churchill Downs, Incorporated (NASDAQ:CHDN) announced an annual dividend on Friday, October 27th, Wall Street Journal reports. Investors of record on Friday, December 1st will be given a dividend of 1.52 per share on Friday, January 5th. This represents a yield of 0.73%. The ex-dividend date is Thursday, November 30th. This is an increase from Churchill Downs,'s previous annual dividend of $1.32.
Churchill Downs, (NASDAQ:CHDN) traded up 1.81% during midday trading on Friday, reaching $208.35. 136,965 shares of the company were exchanged. Churchill Downs, has a 52 week low of $131.70 and a 52 week high of $211.58. The firm has a market capitalization of $3.35 billion, a PE ratio of 28.47 and a beta of 0.86. The company has a 50-day moving average of $204.72 and a 200 day moving average of $185.36.
Churchill Downs, (NASDAQ:CHDN) last issued its quarterly earnings results on Wednesday, July 26th. The company reported $4.81 earnings per share (EPS) for the quarter, topping analysts' consensus estimates of $4.51 by $0.30. The company had revenue of $451.90 million during the quarter, compared to the consensus estimate of $439.33 million. Churchill Downs, had a return on equity of 15.83% and a net margin of 9.22%. Churchill Downs,'s revenue was up 3.1% on a year-over-year basis. During the same period last year, the company earned $4.11 earnings per share. Equities analysts predict that Churchill Downs, will post $6.75 earnings per share for the current year.
TRADEMARK VIOLATION NOTICE: "Churchill Downs, Incorporated (CHDN) Increases Dividend to $1.52 Per Share" was originally reported by American Banking News and is owned by of American Banking News. If you are reading this story on another website, it was illegally copied and republished in violation of US and international trademark & copyright legislation. The correct version of this story can be read at https://www.americanbankingnews.com/2017/10/27/churchill-downs-incorporated-chdn-increases-dividend-to-1-52-per-share.html.
In other news, Director Robert L. Evans sold 5,000 shares of Churchill Downs, stock in a transaction on Friday, September 8th. The stock was sold at an average price of $198.25, for a total transaction of $991,250.00. Following the completion of the sale, the director now directly owns 90,878 shares in the company, valued at $18,016,563.50. The transaction was disclosed in a filing with the SEC, which can be accessed through the SEC website. 18.44% of the stock is currently owned by company insiders.
A number of brokerages recently issued reports on CHDN. Telsey Advisory Group raised their price target on Churchill Downs, from $196.00 to $209.00 and gave the stock a "market perform" rating in a research report on Thursday, October 12th. Zacks Investment Research downgraded Churchill Downs, from a "buy" rating to a "hold" rating in a research report on Tuesday, October 10th. BidaskClub upgraded Churchill Downs, from a "hold" rating to a "buy" rating in a research report on Saturday, August 5th. Finally, Imperial Capital lifted their target price on Churchill Downs, from $184.00 to $208.00 and gave the stock an "outperform" rating in a research report on Friday, July 28th. Three equities research analysts have rated the stock with a hold rating and two have issued a buy rating to the stock. The stock has a consensus rating of "Hold" and an average price target of $210.67.
About Churchill Downs,
Churchill Downs Incorporated is a racing, gaming and online entertainment company. The Company is engaged in brick-and-mortar casino gaming with approximately 9,030 gaming positions in seven states, and is a legal mobile and online platform for betting on horseracing in the United States. It operates through six segments: Racing, Casinos, TwinSpires, Big Fish Games, Other Investments and Corporate.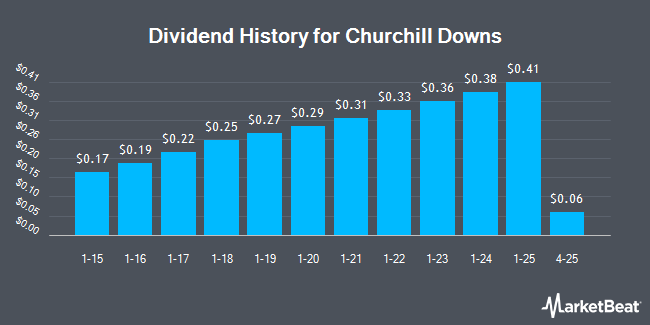 Receive News & Ratings for Churchill Downs Incorporated Daily - Enter your email address below to receive a concise daily summary of the latest news and analysts' ratings for Churchill Downs Incorporated and related companies with MarketBeat.com's FREE daily email newsletter.