MEG Energy Corp (MEG) Price Target Raised to C$5.25
MEG Energy Corp (TSE:MEG) had its price target raised by investment analysts at National Bank Financial from C$4.75 to C$5.25 in a research note issued on Friday. The firm presently has a "sector perform" rating on the stock. National Bank Financial's price target suggests a potential downside of 2.60% from the company's previous close.
MEG has been the topic of several other reports. CIBC dropped their price target on MEG Energy Corp from C$8.00 to C$4.50 in a research report on Thursday, July 20th. TD Securities upped their price target on MEG Energy Corp from C$5.50 to C$6.00 and gave the company a "hold" rating in a research report on Friday, July 28th. Four analysts have rated the stock with a hold rating and three have issued a buy rating to the company's stock. The stock presently has a consensus rating of "Hold" and an average target price of C$7.15.
MEG Energy Corp (MEG) traded up 1.89% during trading on Friday, hitting $5.39. 2,325,523 shares of the company were exchanged. The company's market capitalization is $1.58 billion. MEG Energy Corp has a 12 month low of $3.28 and a 12 month high of $9.83. The stock's 50-day moving average is $5.34 and its 200-day moving average is $5.12.
MEG Energy Corp (TSE:MEG) last posted its quarterly earnings results on Thursday, July 27th. The company reported C($0.12) earnings per share (EPS) for the quarter, beating the Thomson Reuters' consensus estimate of C($0.17) by C$0.05. The business had revenue of C$574.03 million for the quarter. MEG Energy Corp had a return on equity of 10.88% and a net margin of 18.17%. Equities research analysts anticipate that MEG Energy Corp will post ($0.54) earnings per share for the current year.
ILLEGAL ACTIVITY NOTICE: "MEG Energy Corp (MEG) Price Target Raised to C$5.25" was published by American Banking News and is the property of of American Banking News. If you are accessing this story on another site, it was copied illegally and reposted in violation of U.S. & international trademark & copyright law. The correct version of this story can be read at https://www.americanbankingnews.com/2017/10/27/meg-energy-corp-meg-price-target-raised-to-c5-25-2.html.
MEG Energy Corp Company Profile
MEG Energy Corp (MEG) is a Canada-based oil sands company. It is focused on sustainable in situ oil sands development and production in the southern Athabasca oil sands region of Alberta, Canada. MEG is engaged in developing enhanced oil recovery projects that utilize steam-assisted gravity drainage (SAGD) extraction methods.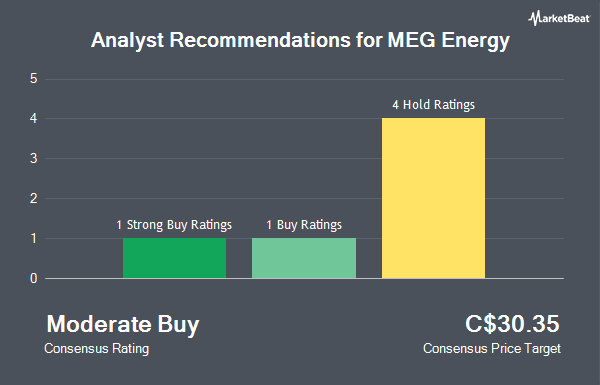 Receive News & Ratings for MEG Energy Corp Daily - Enter your email address below to receive a concise daily summary of the latest news and analysts' ratings for MEG Energy Corp and related companies with MarketBeat.com's FREE daily email newsletter.