NewMarket Corporation (NEU) Plans $1.75 Quarterly Dividend
NewMarket Corporation (NYSE:NEU) declared a quarterly dividend on Friday, October 27th, Wall Street Journal reports. Stockholders of record on Friday, December 15th will be paid a dividend of 1.75 per share by the specialty chemicals company on Tuesday, January 2nd. This represents a $7.00 dividend on an annualized basis and a dividend yield of 1.74%. The ex-dividend date of this dividend is Thursday, December 14th.
NewMarket Corporation has raised its dividend payment by an average of 33.3% annually over the last three years and has increased its dividend annually for the last 8 consecutive years.
Shares of NewMarket Corporation (NYSE NEU) traded down 1.34% during trading on Friday, hitting $402.33. 39,035 shares of the stock were exchanged. The stock has a 50-day moving average of $426.26 and a 200 day moving average of $446.45. The stock has a market cap of $4.77 billion, a P/E ratio of 19.56 and a beta of 0.75. NewMarket Corporation has a 12-month low of $386.90 and a 12-month high of $483.86.
NewMarket Corporation (NYSE:NEU) last issued its quarterly earnings results on Wednesday, October 25th. The specialty chemicals company reported $5.04 EPS for the quarter, missing the consensus estimate of $5.70 by ($0.66). NewMarket Corporation had a return on equity of 43.58% and a net margin of 10.85%. The business had revenue of $584.41 million during the quarter, compared to the consensus estimate of $546.40 million. During the same quarter last year, the firm posted $6.00 earnings per share. NewMarket Corporation's revenue was up 13.2% compared to the same quarter last year. Equities analysts predict that NewMarket Corporation will post $20.23 earnings per share for the current fiscal year.
Separately, BidaskClub cut shares of NewMarket Corporation from a "hold" rating to a "sell" rating in a research report on Saturday, August 5th.
COPYRIGHT VIOLATION NOTICE: "NewMarket Corporation (NEU) Plans $1.75 Quarterly Dividend" was published by American Banking News and is the property of of American Banking News. If you are accessing this report on another domain, it was copied illegally and republished in violation of U.S. & international trademark & copyright laws. The correct version of this report can be read at https://www.americanbankingnews.com/2017/10/27/newmarket-corporation-neu-plans-1-75-quarterly-dividend.html.
NewMarket Corporation Company Profile
NewMarket Corporation is a holding company. The Company is the parent company of Afton Chemical Corporation (Afton), Ethyl Corporation (Ethyl), NewMarket Services Corporation (NewMarket Services), and NewMarket Development Corporation (NewMarket Development). The Company operates through petroleum additives segment, which is primarily represented by Afton.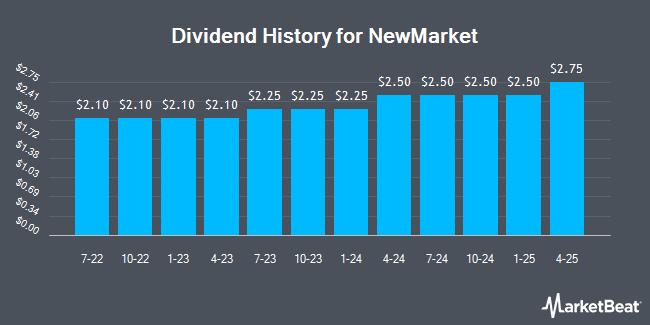 Receive News & Ratings for NewMarket Corporation Daily - Enter your email address below to receive a concise daily summary of the latest news and analysts' ratings for NewMarket Corporation and related companies with MarketBeat.com's FREE daily email newsletter.