Wolseley plc (WOSYY) Receives Consensus Rating of "Buy" from Brokerages
Wolseley plc (NASDAQ:WOSYY) has been given an average rating of "Buy" by the eight ratings firms that are presently covering the firm, MarketBeat Ratings reports. Three investment analysts have rated the stock with a hold rating and five have assigned a buy rating to the company. The average twelve-month price target among brokers that have issued a report on the stock in the last year is $6.50.
Several analysts have commented on WOSYY shares. Royal Bank Of Canada upgraded Wolseley plc from a "sector perform" rating to an "outperform" rating in a research note on Monday, July 31st. Zacks Investment Research upgraded Wolseley plc from a "hold" rating to a "buy" rating and set a $6.50 price target on the stock in a research note on Saturday, July 29th. Finally, ValuEngine downgraded Wolseley plc from a "buy" rating to a "hold" rating in a research note on Friday, July 28th.
Shares of Wolseley plc (WOSYY) opened at 5.95 on Friday. Wolseley plc has a one year low of $5.06 and a one year high of $6.64. The company's 50-day moving average price is $6.11 and its 200-day moving average price is $6.23.
COPYRIGHT VIOLATION WARNING: This piece was first published by American Banking News and is the sole property of of American Banking News. If you are reading this piece on another site, it was copied illegally and reposted in violation of international copyright law. The correct version of this piece can be viewed at https://www.americanbankingnews.com/2017/10/29/wolseley-plc-wosyy-receives-consensus-rating-of-buy-from-brokerages.html.
Wolseley plc Company Profile
Wolseley plc is the holding company of the Wolseley Group of companies. The Company is engaged in the distribution of plumbing and heating products and building materials. The Company's segments include USA, UK, Nordic, and Canada and Central Europe. The Company operates seven business units in the United States, six of these mainly operate in the business to business (B2B) market with one operating in the business to consumer (B2C) market.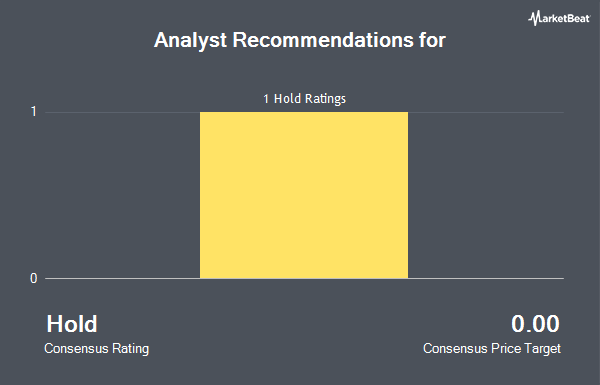 Receive News & Ratings for Wolseley plc Daily - Enter your email address below to receive a concise daily summary of the latest news and analysts' ratings for Wolseley plc and related companies with MarketBeat.com's FREE daily email newsletter.