Atomera Incorporated (ATOM) Set to Announce Earnings on Monday
Atomera Incorporated (NASDAQ:ATOM) is scheduled to post its quarterly earnings results after the market closes on Monday, November 6th.
Atomera (NASDAQ:ATOM) last posted its earnings results on Tuesday, August 8th. The technology company reported ($0.30) EPS for the quarter. On average, analysts expect Atomera to post $0 EPS for the current fiscal year and $0 EPS for the next fiscal year.
Shares of Atomera Incorporated (NASDAQ:ATOM) opened at 3.12 on Monday. Atomera Incorporated has a 12-month low of $2.90 and a 12-month high of $7.80. The company's market cap is $37.94 million. The firm has a 50 day moving average price of $4.15 and a 200-day moving average price of $4.15.
TRADEMARK VIOLATION WARNING: This piece was originally reported by American Banking News and is owned by of American Banking News. If you are accessing this piece on another site, it was illegally stolen and republished in violation of international copyright laws. The original version of this piece can be viewed at https://www.americanbankingnews.com/2017/10/30/atomera-incorporated-atom-set-to-announce-earnings-on-monday.html.
In other news, insider Robert J. Mears sold 7,238 shares of the company's stock in a transaction on Thursday, August 10th. The stock was sold at an average price of $4.41, for a total transaction of $31,919.58. Following the transaction, the insider now directly owns 57,226 shares of the company's stock, valued at $252,366.66. The sale was disclosed in a legal filing with the SEC, which is accessible through the SEC website. Over the last ninety days, insiders have sold 9,983 shares of company stock worth $43,037. Insiders own 8.60% of the company's stock.
Atomera Company Profile
Atomera Incorporated, formerly MEARS Technologies, Inc, is a development-stage company. The Company is engaged in the development, commercialization and licensing of processes and technologies for the semiconductor industry. The Company's technology, named Mears Silicon Technology (MST), is a thin film of reengineered silicon, typically 100 to 300 angstroms (or approximately 20 to 60 silicon atomic unit cells) thick.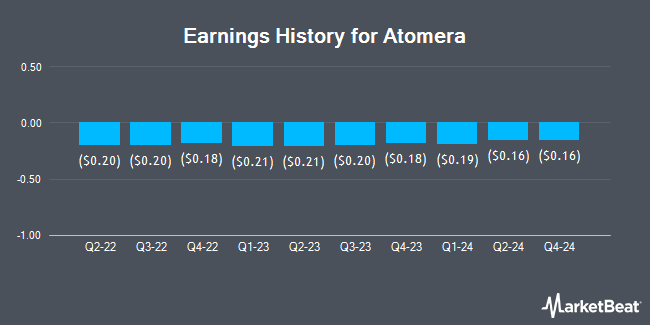 Receive News & Ratings for Atomera Incorporated Daily - Enter your email address below to receive a concise daily summary of the latest news and analysts' ratings for Atomera Incorporated and related companies with MarketBeat.com's FREE daily email newsletter.