Citizens, Inc. (CIA) Set to Announce Earnings on Monday
Citizens, Inc. (NYSE:CIA) is scheduled to be releasing its earnings data after the market closes on Monday, November 6th.
Citizens, Inc. (NYSE:CIA) traded down 0.26% on Monday, reaching $7.54. 39,058 shares of the company's stock were exchanged. Citizens, Inc. has a 52 week low of $5.86 and a 52 week high of $11.93. The company has a market cap of $377.61 million, a price-to-earnings ratio of 68.55 and a beta of 1.11. The stock's 50 day moving average is $7.58 and its 200 day moving average is $7.20.
Several analysts have recently weighed in on the company. ValuEngine upgraded Citizens from a "hold" rating to a "buy" rating in a report on Friday. BidaskClub cut Citizens from a "buy" rating to a "hold" rating in a report on Thursday, August 24th.
ILLEGAL ACTIVITY WARNING: This article was first published by American Banking News and is owned by of American Banking News. If you are reading this article on another website, it was illegally stolen and reposted in violation of international trademark & copyright laws. The legal version of this article can be accessed at https://www.americanbankingnews.com/2017/10/30/citizens-inc-cia-set-to-announce-earnings-on-monday.html.
Citizens Company Profile
Citizens, Inc is an insurance holding company. The Company operates in three business segments: Life Insurance, Home Service and Other Non-Insurance Enterprises. The Life Insurance segment issues ordinary whole life insurance in the United States and in the United States Dollar-denominated amounts to foreign residents.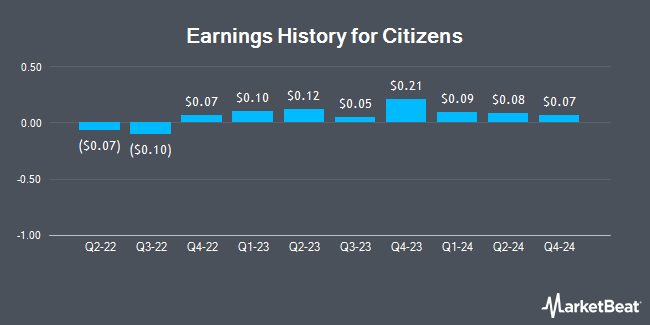 Receive News & Ratings for Citizens Inc. Daily - Enter your email address below to receive a concise daily summary of the latest news and analysts' ratings for Citizens Inc. and related companies with MarketBeat.com's FREE daily email newsletter.