Cray Inc (CRAY) Releases Quarterly Earnings Results, Beats Expectations By $0.16 EPS
Cray Inc (NASDAQ:CRAY) released its quarterly earnings data on Monday. The technology company reported ($0.33) earnings per share for the quarter, beating the consensus estimate of ($0.49) by $0.16, Bloomberg Earnings reports. Cray had a negative return on equity of 1.03% and a net margin of 0.47%. The company had revenue of $79.70 million for the quarter, compared to analyst estimates of $59.67 million. During the same period in the prior year, the company posted ($0.49) EPS. The company's revenue was up 2.9% compared to the same quarter last year.
Shares of Cray (NASDAQ CRAY) traded up 4.71% on Monday, reaching $18.90. The company's stock had a trading volume of 417,047 shares. The company has a market cap of $758.97 million, a PE ratio of 282.09 and a beta of 1.64. The firm has a 50 day moving average of $19.19 and a 200 day moving average of $18.73. Cray has a 52-week low of $16.10 and a 52-week high of $22.85.
WARNING: "Cray Inc (CRAY) Releases Quarterly Earnings Results, Beats Expectations By $0.16 EPS" was posted by American Banking News and is owned by of American Banking News. If you are accessing this article on another domain, it was illegally copied and republished in violation of international trademark & copyright law. The legal version of this article can be accessed at https://www.americanbankingnews.com/2017/10/30/cray-inc-cray-releases-quarterly-earnings-results-beats-expectations-by-0-16-eps.html.
CRAY has been the topic of a number of research analyst reports. Stifel Nicolaus restated a "buy" rating and set a $26.00 price target on shares of Cray in a research report on Wednesday, August 16th. BidaskClub lowered Cray from a "sell" rating to a "strong sell" rating in a research report on Tuesday, July 11th. Finally, Zacks Investment Research lowered Cray from a "buy" rating to a "hold" rating in a research report on Thursday, October 19th. Two equities research analysts have rated the stock with a sell rating, one has issued a hold rating and two have given a buy rating to the company. Cray currently has an average rating of "Hold" and an average price target of $23.33.
Cray Company Profile
Cray Inc is engaged in designing, developing, manufacturing, marketing and servicing the high performance computing (HPC) market, primarily categories of systems known as supercomputers. The Company's segments include Supercomputing, Storage and Data Management, Maintenance and Support, and Engineering Services and Other.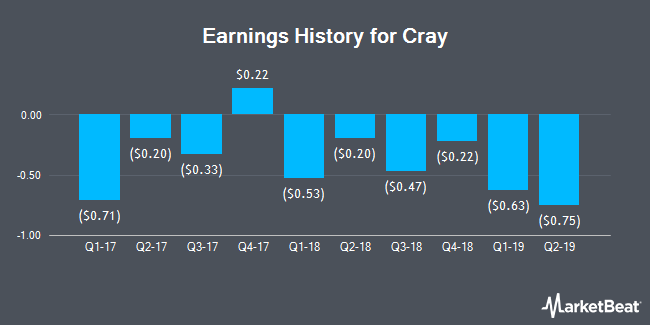 Receive News & Ratings for Cray Inc Daily - Enter your email address below to receive a concise daily summary of the latest news and analysts' ratings for Cray Inc and related companies with MarketBeat.com's FREE daily email newsletter.