Salisbury Bancorp, Inc. (SAL) Declares Quarterly Dividend of $0.28
Salisbury Bancorp, Inc. (NASDAQ:SAL) announced a quarterly dividend on Monday, October 30th, Wall Street Journal reports. Stockholders of record on Friday, November 10th will be given a dividend of 0.28 per share by the bank on Friday, November 24th. This represents a $1.12 dividend on an annualized basis and a dividend yield of 2.46%. The ex-dividend date is Thursday, November 9th.
Salisbury Bancorp (SAL) traded down 3.09% during midday trading on Monday, hitting $45.45. The stock had a trading volume of 1,241 shares. Salisbury Bancorp has a 52 week low of $31.15 and a 52 week high of $50.00. The company's 50-day moving average price is $46.09 and its 200 day moving average price is $42.42. The company has a market capitalization of $125.26 million, a PE ratio of 18.25 and a beta of 0.66.
Salisbury Bancorp (NASDAQ:SAL) last released its quarterly earnings data on Friday, July 28th. The bank reported $0.67 earnings per share for the quarter, beating the Thomson Reuters' consensus estimate of $0.58 by $0.09. Salisbury Bancorp had a return on equity of 6.99% and a net margin of 15.26%. The company had revenue of $9.72 million for the quarter, compared to the consensus estimate of $10.30 million. On average, analysts expect that Salisbury Bancorp will post $2.52 EPS for the current year.
ILLEGAL ACTIVITY WARNING: This story was first published by American Banking News and is owned by of American Banking News. If you are reading this story on another site, it was illegally copied and reposted in violation of U.S. & international copyright law. The correct version of this story can be read at https://www.americanbankingnews.com/2017/10/30/salisbury-bancorp-inc-sal-declares-quarterly-dividend-of-0-28.html.
Several research analysts recently issued reports on the company. Zacks Investment Research raised Salisbury Bancorp from a "hold" rating to a "buy" rating and set a $48.00 target price for the company in a research report on Thursday, August 3rd. FIG Partners reaffirmed an "outperform" rating and set a $51.00 target price (up from $48.50) on shares of Salisbury Bancorp in a research report on Thursday, September 14th.
Salisbury Bancorp Company Profile
Salisbury Bancorp, Inc is a bank holding company for Salisbury Bank and Trust Company (the Bank). The Bank is a Connecticut-chartered and Federal Deposit Insurance Corporation (the FDIC) insured commercial bank. The Bank provides commercial banking, consumer financing, retail banking and trust and wealth advisory services through a network of over 10 banking offices and approximately nine automated teller machines (ATMs).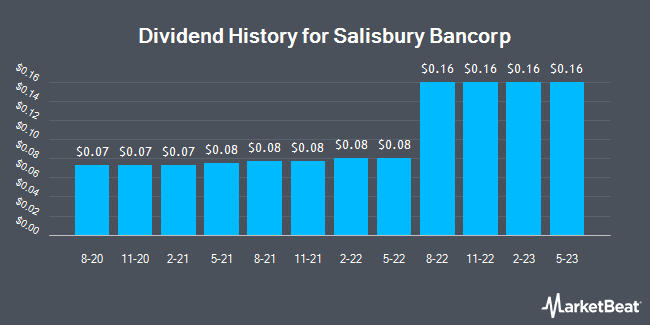 Receive News & Ratings for Salisbury Bancorp Inc. Daily - Enter your email address below to receive a concise daily summary of the latest news and analysts' ratings for Salisbury Bancorp Inc. and related companies with MarketBeat.com's FREE daily email newsletter.