Biocept, Inc. (BIOC) Scheduled to Post Earnings on Tuesday
Biocept, Inc. (NASDAQ:BIOC) is scheduled to be posting its Q3 2017 quarterly earnings results after the market closes on Tuesday, November 7th. Analysts expect Biocept to post earnings of ($0.20) per share for the quarter.
Biocept (NASDAQ:BIOC) last announced its earnings results on Thursday, August 10th. The medical research company reported ($0.21) EPS for the quarter, missing the Zacks' consensus estimate of ($0.20) by ($0.01). Biocept had a negative net margin of 359.48% and a negative return on equity of 550.35%. The business had revenue of $1.28 million for the quarter, compared to the consensus estimate of $1.23 million. On average, analysts expect Biocept to post $-0.77 EPS for the current fiscal year and $-0.55 EPS for the next fiscal year.
Shares of Biocept, Inc. (NASDAQ BIOC) opened at 0.86 on Tuesday. Biocept, Inc. has a one year low of $0.74 and a one year high of $3.39. The stock's 50 day moving average is $1.20 and its 200-day moving average is $1.37. The company's market cap is $26.02 million.
WARNING: This story was originally posted by American Banking News and is the property of of American Banking News. If you are viewing this story on another domain, it was illegally stolen and republished in violation of United States and international trademark & copyright law. The correct version of this story can be viewed at https://www.americanbankingnews.com/2017/10/31/biocept-inc-bioc-scheduled-to-post-earnings-on-tuesday.html.
A hedge fund recently raised its stake in Biocept stock. Vanguard Group Inc. increased its position in shares of Biocept, Inc. (NASDAQ:BIOC) by 9.6% during the 2nd quarter, according to the company in its most recent disclosure with the Securities and Exchange Commission. The firm owned 764,351 shares of the medical research company's stock after buying an additional 66,746 shares during the period. Vanguard Group Inc. owned about 2.87% of Biocept worth $1,048,000 at the end of the most recent quarter. Hedge funds and other institutional investors own 7.79% of the company's stock.
Several equities analysts have recently commented on BIOC shares. ValuEngine upgraded Biocept from a "strong sell" rating to a "sell" rating in a research note on Thursday, July 6th. Zacks Investment Research lowered Biocept from a "buy" rating to a "hold" rating in a research note on Wednesday, July 12th. Finally, Westpark Capital restated an "outperform" rating on shares of Biocept in a research note on Thursday, August 3rd. One investment analyst has rated the stock with a sell rating, one has issued a hold rating and three have issued a buy rating to the company. The stock presently has a consensus rating of "Hold" and an average price target of $2.50.
About Biocept
Biocept, Inc is an early commercial-stage molecular oncology diagnostics company. The Company develops and commercializes circulating tumor cell (CTC) and circulating tumor deoxyribonucleic acid (ctDNA), assays utilizing a standard blood sample, or liquid biopsy. The Company's Target-Selector offering is based on an internally developed, microfluidics-based CTC capture and analysis platform, with enabling features that change how CTC testing can be used by clinicians by providing biomarker detection and monitoring requiring only a standard blood sample.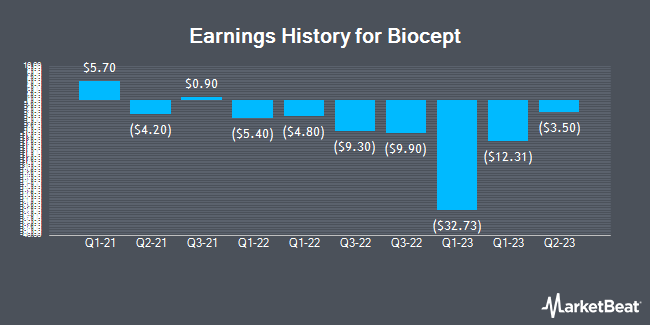 Receive News & Ratings for Biocept Inc. Daily - Enter your email address below to receive a concise daily summary of the latest news and analysts' ratings for Biocept Inc. and related companies with MarketBeat.com's FREE daily email newsletter.