CryoLife, Inc. (CRY) Releases Quarterly Earnings Results, Meets Expectations
CryoLife, Inc. (NYSE:CRY) announced its quarterly earnings data on Monday. The medical equipment provider reported $0.08 earnings per share for the quarter, meeting the Thomson Reuters' consensus estimate of $0.08, Bloomberg Earnings reports. The business had revenue of $44.00 million during the quarter, compared to analyst estimates of $44.60 million. CryoLife had a return on equity of 7.41% and a net margin of 6.16%. The company's revenue was down 2.9% on a year-over-year basis. During the same quarter in the prior year, the firm posted $0.13 earnings per share. CryoLife updated its FY17 guidance to $0.40-0.43 EPS.
Shares of CryoLife (NYSE CRY) opened at 20.10 on Tuesday. The firm has a market cap of $672.26 million, a price-to-earnings ratio of 60.91 and a beta of 0.92. CryoLife has a one year low of $14.02 and a one year high of $24.00. The stock has a 50 day moving average price of $21.74 and a 200 day moving average price of $19.61.
Several brokerages have recently weighed in on CRY. Zacks Investment Research lowered CryoLife from a "hold" rating to a "sell" rating in a report on Tuesday, October 17th. Lake Street Capital upped their price objective on CryoLife to $26.00 and gave the company a "buy" rating in a report on Wednesday, October 11th. Canaccord Genuity restated a "buy" rating and issued a $25.00 price objective on shares of CryoLife in a report on Monday, October 9th. Finally, BidaskClub lowered CryoLife from a "hold" rating to a "sell" rating in a report on Tuesday, August 1st. Two research analysts have rated the stock with a sell rating and four have assigned a buy rating to the company's stock. CryoLife currently has an average rating of "Hold" and a consensus target price of $23.63.
COPYRIGHT VIOLATION NOTICE: This story was originally published by American Banking News and is owned by of American Banking News. If you are reading this story on another domain, it was illegally copied and reposted in violation of US & international copyright law. The legal version of this story can be read at https://www.americanbankingnews.com/2017/10/31/cryolife-inc-cry-releases-quarterly-earnings-results-meets-expectations.html.
In other news, Director James Benson sold 2,000 shares of the firm's stock in a transaction on Monday, October 2nd. The stock was sold at an average price of $22.80, for a total value of $45,600.00. The transaction was disclosed in a document filed with the SEC, which is available through
this link
. Also, CEO James P. Mackin sold 43,050 shares of the firm's stock in a transaction on Tuesday, September 5th. The stock was sold at an average price of $22.09, for a total value of $950,974.50. Following the completion of the transaction, the chief executive officer now owns 398,399 shares in the company, valued at $8,800,633.91. The disclosure for this sale can be found
here
. Insiders sold a total of 171,050 shares of company stock worth $3,769,825 over the last quarter. Corporate insiders own 6.00% of the company's stock.
CryoLife Company Profile
CryoLife, Inc (CryoLife) is a medical device manufacturer and processor, and is engaged in the distribution of medical devices and implantable human tissues used in cardiac surgical procedures. The Company operates through two segments: Medical Devices and Preservation Services. The Medical Devices segment includes medical devices, such as BioGlue Surgical Adhesive, BioFoam Surgical Matrix, On-X Life Technologies Holdings, Inc valves and surgical products, CardioGenesis cardiac laser therapy product line, PerClot and PhotoFix.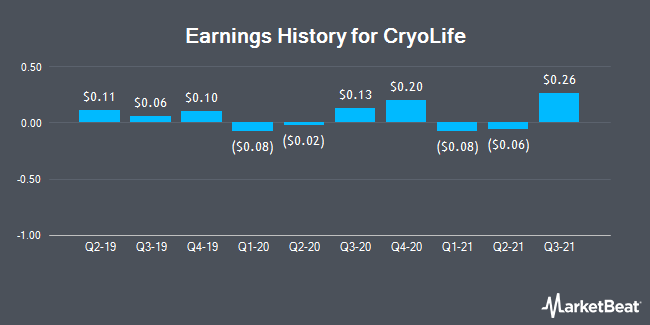 Receive News & Ratings for CryoLife Inc. Daily - Enter your email address below to receive a concise daily summary of the latest news and analysts' ratings for CryoLife Inc. and related companies with MarketBeat.com's FREE daily email newsletter.