Medifast Inc (MED) Set to Announce Earnings on Tuesday
Medifast Inc (NYSE:MED) is scheduled to be releasing its earnings data after the market closes on Tuesday, November 7th. Analysts expect Medifast to post earnings of $0.51 per share for the quarter. Medifast has set its Q3 guidance at $0.48-$0.51 EPS and its FY17 guidance at $2.05-$2.15 EPS.
Medifast (NYSE:MED) last announced its earnings results on Tuesday, August 8th. The specialty retailer reported $0.63 EPS for the quarter, topping the consensus estimate of $0.53 by $0.10. The business had revenue of $75.70 million for the quarter, compared to the consensus estimate of $71.96 million. Medifast had a return on equity of 24.25% and a net margin of 8.62%. Medifast's revenue was up 6.5% compared to the same quarter last year. During the same period in the previous year, the business earned $0.63 EPS. On average, analysts expect Medifast to post $2.12 EPS for the current fiscal year and $2.5 EPS for the next fiscal year.
Shares of Medifast Inc (NYSE:MED) traded up 1.83% on Tuesday, hitting $62.29. The stock had a trading volume of 21,843 shares. The firm has a market capitalization of $743.12 million, a P/E ratio of 31.30 and a beta of 0.46. The company has a 50 day moving average of $59.79 and a 200-day moving average of $49.13. Medifast Inc has a 12-month low of $36.70 and a 12-month high of $64.26.
The company also recently declared a quarterly dividend, which will be paid on Thursday, November 9th. Investors of record on Friday, September 22nd will be given a dividend of $0.32 per share. The ex-dividend date of this dividend is Thursday, September 21st. This represents a $1.28 annualized dividend and a dividend yield of 2.09%. Medifast's dividend payout ratio is 64.32%.
Several analysts recently issued reports on the stock. DA Davidson increased their price target on shares of Medifast from $65.00 to $74.00 and gave the stock a "buy" rating in a research report on Friday, September 15th. BidaskClub upgraded shares of Medifast from a "strong sell" rating to a "sell" rating in a research report on Friday, August 11th. Finally, Sidoti reiterated a "neutral" rating and set a $55.00 price target (up previously from $49.00) on shares of Medifast in a research report on Thursday, September 21st.
COPYRIGHT VIOLATION NOTICE: This piece of content was published by American Banking News and is the property of of American Banking News. If you are accessing this piece of content on another domain, it was illegally stolen and republished in violation of United States and international copyright and trademark law. The original version of this piece of content can be accessed at https://www.americanbankingnews.com/2017/10/31/medifast-inc-med-set-to-announce-earnings-on-tuesday.html.
Medifast Company Profile
Medifast, Inc is engaged in the production, distribution and sale of weight loss, weight management and healthy living products, and other consumable health and nutritional products. Medifast product lines include weight loss, weight management, and healthy living meal replacements, snacks, hydration products and vitamins.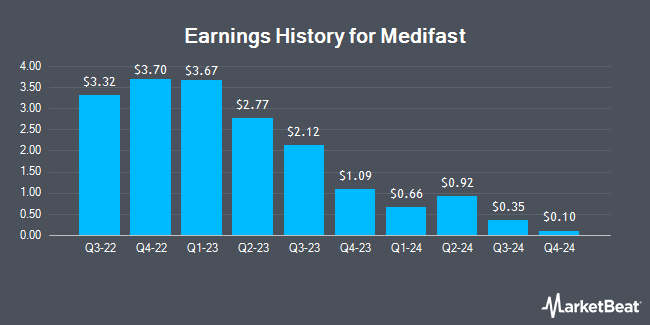 Receive News & Ratings for Medifast Inc Daily - Enter your email address below to receive a concise daily summary of the latest news and analysts' ratings for Medifast Inc and related companies with MarketBeat.com's FREE daily email newsletter.