Systemax Inc. (SYX) Announces Earnings Results, Beats Estimates By $0.10 EPS
Systemax Inc. (NYSE:SYX) issued its quarterly earnings data on Tuesday. The company reported $0.38 earnings per share (EPS) for the quarter, beating the Zacks' consensus estimate of $0.28 by $0.10, reports. Systemax had a negative net margin of 0.87% and a positive return on equity of 12.27%.
Systemax (SYX) traded up 2.51% on Tuesday, hitting $28.55. 87,365 shares of the stock traded hands. Systemax has a 1-year low of $7.05 and a 1-year high of $29.50. The stock has a 50-day moving average price of $27.04 and a 200 day moving average price of $21.00. The company's market cap is $1.06 billion.
In other news, VP Thomas Axmacher sold 2,886 shares of the firm's stock in a transaction that occurred on Tuesday, August 29th. The shares were sold at an average price of $24.51, for a total transaction of $70,735.86. Following the completion of the sale, the vice president now owns 3,211 shares of the company's stock, valued at approximately $78,701.61. The sale was disclosed in a legal filing with the SEC, which is accessible through this link. Also, VP Manoj Shetty sold 5,000 shares of the firm's stock in a transaction that occurred on Tuesday, August 8th. The stock was sold at an average price of $23.30, for a total transaction of $116,500.00. The disclosure for this sale can be found here. In the last ninety days, insiders have sold 146,283 shares of company stock valued at $3,788,403. Insiders own 69.60% of the company's stock.
Several research analysts have recently weighed in on SYX shares. BidaskClub cut shares of Systemax from a "buy" rating to a "hold" rating in a report on Tuesday, July 25th. Sidoti reiterated a "buy" rating and issued a $31.00 price target (up previously from $25.00) on shares of Systemax in a report on Thursday, August 10th.
TRADEMARK VIOLATION WARNING: This story was first reported by American Banking News and is owned by of American Banking News. If you are accessing this story on another publication, it was illegally stolen and reposted in violation of US & international trademark & copyright laws. The legal version of this story can be viewed at https://www.americanbankingnews.com/2017/10/31/systemax-inc-syx-announces-earnings-results-beats-estimates-by-0-10-eps.html.
Systemax Company Profile
Systemax Inc is a direct marketer of brand name and private label products. The Company's segments are Industrial Products Group (IPG), EMEA Technology Products Group (EMEA), and Corporate and Other (Corporate). The IPG segment sells an array of maintenance, repair and operational (MRO) products, which are marketed in North America.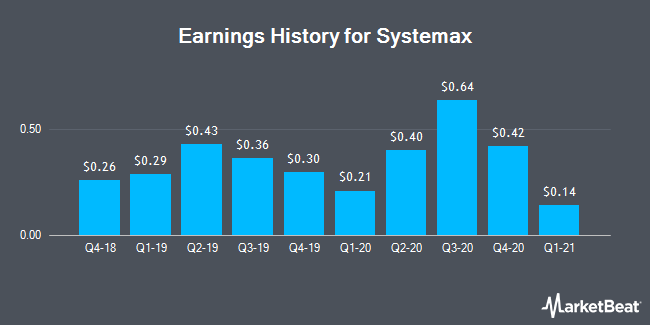 Receive News & Ratings for Systemax Inc. Daily - Enter your email address below to receive a concise daily summary of the latest news and analysts' ratings for Systemax Inc. and related companies with MarketBeat.com's FREE daily email newsletter.