Green Plains, Inc. (GPRE) Releases Quarterly Earnings Results, Misses Estimates By $0.47 EPS
Green Plains, Inc. (NASDAQ:GPRE) issued its quarterly earnings data on Monday. The specialty chemicals company reported ($0.18) earnings per share (EPS) for the quarter, missing the Thomson Reuters' consensus estimate of $0.29 by ($0.47), Bloomberg Earnings reports. Green Plains had a net margin of 0.19% and a return on equity of 0.68%. The business had revenue of $901.20 million during the quarter, compared to analyst estimates of $933.36 million. During the same quarter in the prior year, the firm posted $0.20 earnings per share. Green Plains's revenue for the quarter was up 7.0% compared to the same quarter last year.
COPYRIGHT VIOLATION WARNING: This article was first reported by American Banking News and is owned by of American Banking News. If you are accessing this article on another site, it was stolen and reposted in violation of US & international copyright & trademark law. The legal version of this article can be viewed at https://www.americanbankingnews.com/2017/11/01/green-plains-inc-gpre-releases-quarterly-earnings-results-misses-estimates-by-0-47-eps.html.
Several equities analysts recently issued reports on GPRE shares. Roth Capital set a $27.00 price objective on Green Plains and gave the company a "buy" rating in a research report on Wednesday, August 2nd. Jefferies Group LLC reiterated a "buy" rating and issued a $25.00 price objective (down from $28.00) on shares of Green Plains in a research report on Wednesday, August 2nd. Craig Hallum started coverage on Green Plains in a research report on Thursday, September 14th. They issued a "buy" rating and a $29.00 price objective for the company. Piper Jaffray Companies reiterated a "hold" rating and issued a $19.00 price objective on shares of Green Plains in a research report on Thursday, August 3rd. Finally, Zacks Investment Research upgraded Green Plains from a "strong sell" rating to a "hold" rating in a research report on Monday, July 10th. Two analysts have rated the stock with a sell rating, two have assigned a hold rating and five have assigned a buy rating to the company. The company presently has an average rating of "Hold" and a consensus price target of $26.17.
Green Plains Company Profile
Green Plains Inc is an ethanol producer. The Company owns and operates assets throughout the ethanol value chain, including upstream, with grain handling and storage through its ethanol production facilities, and downstream, with marketing and distribution services. It operates through four segments: Ethanol Production, Agribusiness and Energy Services, Food and Food Ingredients, and Partnership.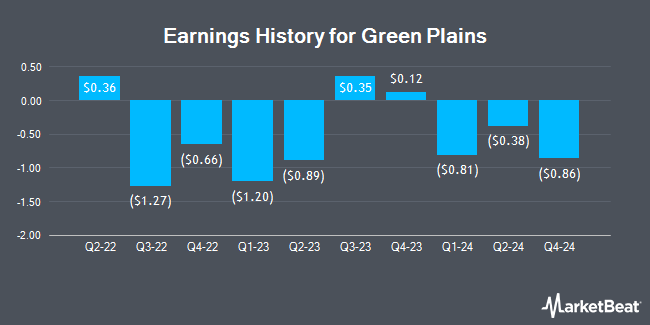 Receive News & Ratings for Green Plains Inc. Daily - Enter your email address below to receive a concise daily summary of the latest news and analysts' ratings for Green Plains Inc. and related companies with MarketBeat.com's FREE daily email newsletter.