HCA Holdings, Inc. (HCA) Issues Quarterly Earnings Results
HCA Holdings, Inc. (NYSE:HCA) released its earnings results on Tuesday. The company reported $1.21 EPS for the quarter, hitting the Thomson Reuters' consensus estimate of $1.21, Bloomberg Earnings reports. HCA Holdings had a negative return on equity of 48.08% and a net margin of 6.64%. The business had revenue of $10.70 billion for the quarter, compared to the consensus estimate of $10.70 billion. During the same period in the previous year, the company posted $1.45 earnings per share. The company's revenue for the quarter was up 4.1% compared to the same quarter last year. HCA Holdings updated its FY17 guidance to $6.45-6.70 EPS.
HCA Holdings (HCA) traded up 1.67% during trading on Wednesday, hitting $76.91. The stock had a trading volume of 2,553,463 shares. The company has a market cap of $27.78 billion, a price-to-earnings ratio of 10.31 and a beta of 0.62. HCA Holdings has a 52-week low of $67.00 and a 52-week high of $91.03. The firm's 50-day moving average price is $77.68 and its 200-day moving average price is $81.32.
Several equities research analysts have commented on HCA shares. Robert W. Baird reissued a "buy" rating on shares of HCA Holdings in a report on Thursday, September 28th. Zacks Investment Research downgraded HCA Holdings from a "buy" rating to a "hold" rating in a report on Friday, July 14th. Piper Jaffray Companies restated a "buy" rating and issued a $92.00 price target on shares of HCA Holdings in a research note on Wednesday, October 4th. Cantor Fitzgerald restated a "buy" rating and issued a $95.00 price target on shares of HCA Holdings in a research note on Friday, October 13th. Finally, Raymond James Financial, Inc. cut HCA Holdings from a "strong-buy" rating to a "market perform" rating in a research note on Wednesday, October 18th. Two equities research analysts have rated the stock with a sell rating, six have given a hold rating and sixteen have assigned a buy rating to the stock. The stock currently has a consensus rating of "Buy" and an average target price of $90.00.
HCA Holdings declared that its board has authorized a share repurchase program on Tuesday, October 31st that allows the company to repurchase $2.00 billion in shares. This repurchase authorization allows the company to reacquire shares of its stock through open market purchases. Shares repurchase programs are typically an indication that the company's leadership believes its stock is undervalued.
In related news, insider Michael S. Cuffe sold 2,150 shares of HCA Holdings stock in a transaction dated Tuesday, August 15th. The stock was sold at an average price of $79.88, for a total value of $171,742.00. Following the completion of the transaction, the insider now owns 12,363 shares in the company, valued at approximately $987,556.44. The sale was disclosed in a document filed with the SEC, which is available through the SEC website. In the last 90 days, insiders sold 6,450 shares of company stock valued at $511,163. 2.90% of the stock is owned by company insiders.
ILLEGAL ACTIVITY WARNING: This report was first reported by American Banking News and is the property of of American Banking News. If you are viewing this report on another domain, it was copied illegally and reposted in violation of U.S. & international copyright law. The correct version of this report can be accessed at https://www.americanbankingnews.com/2017/11/01/hca-holdings-inc-hca-issues-quarterly-earnings-results.html.
About HCA Holdings
HCA Healthcare, Inc, formerly HCA Holdings, Inc, is a holding company. The Company, through its subsidiaries, owns and operates hospitals and related healthcare entities. As of December 31, 2016, the Company operated in two geographically organized groups, including the National and American Groups. As of December 31, 2016, the National Group included 84 hospitals, which were located in Alaska, California, Florida, southern Georgia, Idaho, Indiana, northern Kentucky, Nevada, New Hampshire, South Carolina, Utah and Virginia.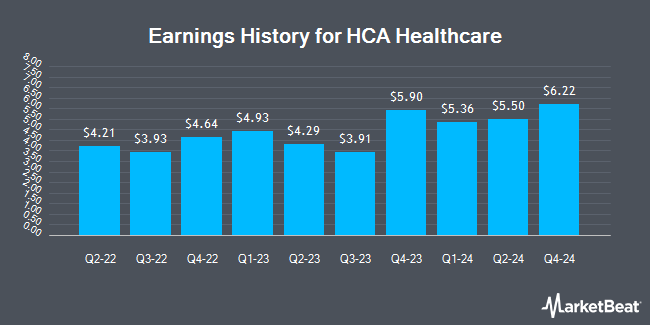 Receive News & Ratings for HCA Holdings Inc. Daily - Enter your email address below to receive a concise daily summary of the latest news and analysts' ratings for HCA Holdings Inc. and related companies with MarketBeat.com's FREE daily email newsletter.