Aircastle Limited (AYR) Issues Earnings Results
Aircastle Limited (NYSE:AYR) released its quarterly earnings data on Thursday. The transportation company reported $0.82 EPS for the quarter, topping analysts' consensus estimates of $0.67 by $0.15, Bloomberg Earnings reports. The firm had revenue of $191.41 million during the quarter, compared to the consensus estimate of $184.02 million. Aircastle Limited had a net margin of 15.75% and a return on equity of 7.41%. The firm's revenue was down 1.7% on a year-over-year basis. During the same quarter in the previous year, the company posted $0.38 earnings per share.
A number of equities research analysts have issued reports on the company. Cowen and Company reiterated a "hold" rating and issued a $26.00 target price on shares of Aircastle Limited in a research note on Tuesday, September 12th. Zacks Investment Research lowered Aircastle Limited from a "buy" rating to a "hold" rating in a report on Wednesday, July 5th. Barclays PLC started coverage on Aircastle Limited in a report on Monday, July 10th. They set an "equal weight" rating and a $24.00 target price on the stock. Finally, BidaskClub lowered Aircastle Limited from a "sell" rating to a "strong sell" rating in a report on Monday, August 14th. Two equities research analysts have rated the stock with a sell rating, seven have issued a hold rating and one has given a buy rating to the company. Aircastle Limited presently has a consensus rating of "Hold" and a consensus target price of $24.78.
TRADEMARK VIOLATION WARNING: "Aircastle Limited (AYR) Issues Earnings Results" was published by American Banking News and is the property of of American Banking News. If you are reading this piece of content on another domain, it was illegally copied and republished in violation of international copyright & trademark law. The legal version of this piece of content can be read at https://www.americanbankingnews.com/2017/11/02/aircastle-limited-ayr-issues-earnings-results.html.
About Aircastle Limited
Aircastle Limited is a holding company. The Company, through its subsidiaries, acquires, leases and sells commercial jet aircrafts to airlines. The Company is engaged in financing and managing commercial flight equipment. The Company manages its aircrafts in the United States, Ireland and Singapore. As of December 31, 2016, the Company owned and managed on behalf of its joint ventures 206 aircrafts leased to 71 lessees located in 36 countries.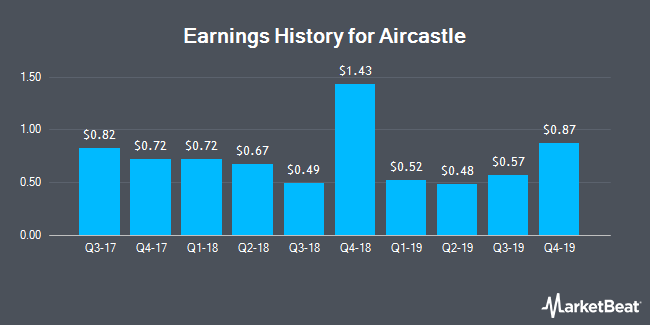 Receive News & Ratings for Aircastle Limited Daily - Enter your email address below to receive a concise daily summary of the latest news and analysts' ratings for Aircastle Limited and related companies with MarketBeat.com's FREE daily email newsletter.