AMC Networks Inc. (AMCX) Posts Quarterly Earnings Results
AMC Networks Inc. (NASDAQ:AMCX) issued its earnings results on Thursday. The company reported $1.68 earnings per share for the quarter, topping the Thomson Reuters' consensus estimate of $1.15 by $0.53, Bloomberg Earnings reports. AMC Networks had a return on equity of 683.16% and a net margin of 11.40%. The business had revenue of $648.00 million during the quarter, compared to analysts' expectations of $660.79 million. During the same period in the prior year, the business earned $1.11 EPS. The business's revenue for the quarter was up 2.1% compared to the same quarter last year.
ILLEGAL ACTIVITY WARNING: This news story was reported by American Banking News and is the sole property of of American Banking News. If you are viewing this news story on another site, it was illegally copied and reposted in violation of U.S. and international trademark and copyright legislation. The correct version of this news story can be accessed at https://www.americanbankingnews.com/2017/11/02/amc-networks-inc-amcx-issues-earnings-results.html.
AMCX has been the subject of several research reports. Jefferies Group LLC reiterated a "hold" rating and issued a $60.00 target price on shares of AMC Networks in a report on Monday, July 10th. BidaskClub upgraded AMC Networks from a "hold" rating to a "buy" rating in a report on Wednesday, July 12th. Zacks Investment Research upgraded AMC Networks from a "hold" rating to a "buy" rating and set a $63.00 target price for the company in a report on Thursday, July 13th. TheStreet upgraded AMC Networks from a "c" rating to a "b-" rating in a report on Friday, July 28th. Finally, Sanford C. Bernstein reiterated a "market perform" rating on shares of AMC Networks in a report on Tuesday, September 12th. Two equities research analysts have rated the stock with a sell rating, twelve have given a hold rating, three have given a buy rating and one has issued a strong buy rating to the stock. The stock has a consensus rating of "Hold" and an average target price of $59.07.
AMC Networks Company Profile
AMC Networks Inc is a holding company, which conducts all of its operations through its subsidiaries. The Company owns and operates entertainment businesses and assets. It operates through two segments: National Networks, and International and Other. National Networks includes activities of its programming businesses, which include its programming networks distributed in the United States and Canada.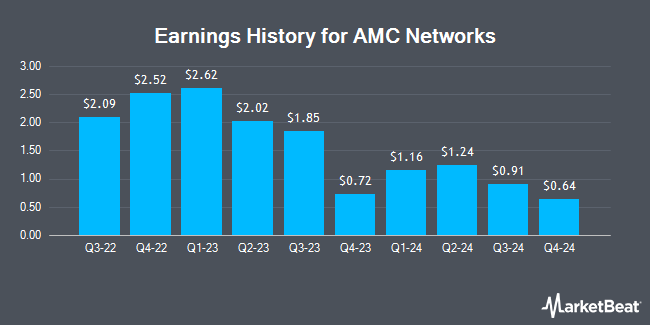 Receive News & Ratings for AMC Networks Inc. Daily - Enter your email address below to receive a concise daily summary of the latest news and analysts' ratings for AMC Networks Inc. and related companies with MarketBeat.com's FREE daily email newsletter.