Benefitfocus, Inc. (BNFT) Issues Q4 Earnings Guidance
Benefitfocus, Inc. (NASDAQ:BNFT) issued an update on its fourth quarter earnings guidance on Thursday morning. The company provided EPS guidance of ($0.08-0.05) for the period, compared to the Thomson Reuters consensus EPS estimate of ($0.01). The company issued revenue guidance of $66-67 million, compared to the consensus revenue estimate of $66.93 million.
Benefitfocus (NASDAQ:BNFT) last posted its quarterly earnings data on Thursday, August 3rd. The software maker reported ($0.05) EPS for the quarter, beating the Zacks' consensus estimate of ($0.14) by $0.09. The business had revenue of $63.30 million during the quarter, compared to analysts' expectations of $62.07 million. During the same quarter last year, the firm earned ($0.22) earnings per share. The firm's quarterly revenue was up 9.3% compared to the same quarter last year.
Several analysts recently commented on BNFT shares. Zacks Investment Research cut Benefitfocus from a buy rating to a hold rating in a research report on Tuesday, August 1st. Raymond James Financial, Inc. boosted their price target on Benefitfocus from $38.00 to $43.00 and gave the stock an outperform rating in a research report on Thursday, July 27th. BidaskClub cut Benefitfocus from a buy rating to a hold rating in a research report on Monday, July 24th. Canaccord Genuity reiterated a buy rating and set a $34.00 price target on shares of Benefitfocus in a research report on Monday. Finally, Chardan Capital cut Benefitfocus from a buy rating to a neutral rating and dropped their price target for the stock from $36.00 to $30.00 in a research report on Friday, August 4th. One research analyst has rated the stock with a sell rating, three have assigned a hold rating and eight have issued a buy rating to the stock. The stock currently has an average rating of Buy and a consensus price target of $39.67.
TRADEMARK VIOLATION NOTICE: This story was published by American Banking News and is the sole property of of American Banking News. If you are viewing this story on another domain, it was illegally copied and reposted in violation of United States and international copyright and trademark laws. The original version of this story can be accessed at https://www.americanbankingnews.com/2017/11/02/benefitfocus-inc-bnft-issues-q4-earnings-guidance.html.
About Benefitfocus
Benefitfocus, Inc (Benefitfocus) is a provider of cloud-based benefits management platform for consumers, employers, insurance carriers and brokers. The Benefitfocus Platform allows how organizations and individuals shop for, enroll in, manage and exchange benefits. The Company operates through two business segments: Employer, which derives its revenue from customers that use the Company's services for the provision of benefits to their employees, and administrators acting on behalf of employers, Carrier, which derives its revenue from insurance companies that provide coverage at their own risk.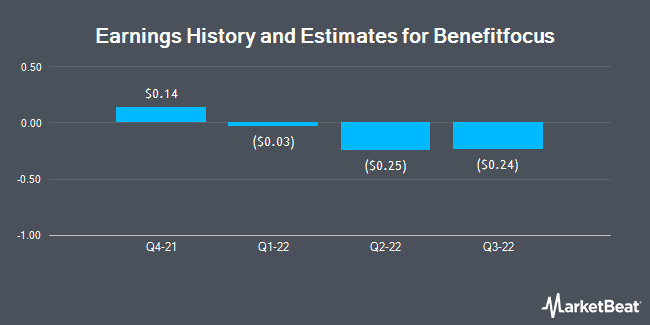 Receive News & Ratings for Benefitfocus Inc. Daily - Enter your email address below to receive a concise daily summary of the latest news and analysts' ratings for Benefitfocus Inc. and related companies with MarketBeat.com's FREE daily email newsletter.