Camtek Ltd. (CAMT) to Release Earnings on Tuesday
Camtek Ltd. (NASDAQ:CAMT) is scheduled to be posting its quarterly earnings results before the market opens on Tuesday, November 7th. Analysts expect Camtek to post earnings of $0.08 per share for the quarter.
Camtek (NASDAQ:CAMT) last released its quarterly earnings data on Thursday, August 3rd. The semiconductor company reported $0.10 EPS for the quarter, beating the Thomson Reuters' consensus estimate of $0.09 by $0.01. Camtek had a net margin of 2.56% and a return on equity of 15.32%. The firm had revenue of $22.68 million for the quarter, compared to the consensus estimate of $33.50 million. On average, analysts expect Camtek to post $0.38 EPS for the current fiscal year and $0.49 EPS for the next fiscal year.
Several brokerages have recently issued reports on CAMT. B. Riley reaffirmed a "buy" rating and set a $6.00 target price on shares of Camtek in a research report on Friday, July 21st. TheStreet lowered Camtek from a "b" rating to a "c" rating in a research report on Friday, August 4th. Zacks Investment Research lowered Camtek from a "strong-buy" rating to a "hold" rating in a research report on Tuesday, July 11th. Finally, Needham & Company LLC raised Camtek from a "hold" rating to a "buy" rating and set a $7.00 target price for the company in a research report on Tuesday, October 3rd. One investment analyst has rated the stock with a hold rating and three have issued a buy rating to the stock. The stock currently has a consensus rating of "Buy" and a consensus target price of $6.50.
COPYRIGHT VIOLATION NOTICE: "Camtek Ltd. (CAMT) to Release Earnings on Tuesday" was originally reported by American Banking News and is the property of of American Banking News. If you are viewing this story on another site, it was stolen and republished in violation of international copyright and trademark law. The legal version of this story can be viewed at https://www.americanbankingnews.com/2017/11/02/camtek-ltd-camt-to-release-earnings-on-tuesday.html.
Camtek Company Profile
Camtek Ltd. provides automated and technological solutions for production processes and products yield, enabling and supporting customers' technologies in the semiconductor fabrication and printed circuit board (PCB) industries. The Company designs, develops, manufactures and markets products mainly based on two core technologies: automated optical inspection (AOI) and functional ink technology (FIT).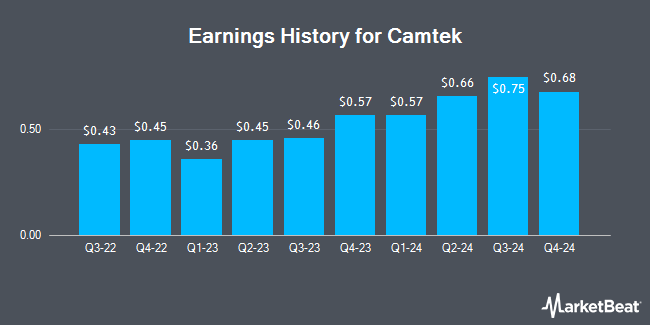 Receive News & Ratings for Camtek Ltd. Daily - Enter your email address below to receive a concise daily summary of the latest news and analysts' ratings for Camtek Ltd. and related companies with MarketBeat.com's FREE daily email newsletter.