Cohu, Inc. (COHU) Issues Quarterly Earnings Results
Cohu, Inc. (NASDAQ:COHU) announced its quarterly earnings data on Thursday. The semiconductor company reported $0.43 earnings per share for the quarter, beating the Thomson Reuters' consensus estimate of $0.39 by $0.04, Bloomberg Earnings reports. The firm had revenue of $93.70 million during the quarter, compared to analysts' expectations of $91.43 million. Cohu had a return on equity of 11.59% and a net margin of 6.21%. The company's quarterly revenue was up 35.2% compared to the same quarter last year. During the same period in the previous year, the firm earned $0.14 EPS.
Several equities analysts have weighed in on the company. B. Riley reaffirmed a "buy" rating and issued a $25.00 price objective on shares of Cohu in a report on Thursday, July 20th. BidaskClub raised Cohu from a "sell" rating to a "hold" rating in a report on Wednesday, August 16th. Stifel Nicolaus reaffirmed a "hold" rating and issued a $19.00 price objective (up from $17.00) on shares of Cohu in a report on Monday, July 17th. Finally, Zacks Investment Research raised Cohu from a "hold" rating to a "strong-buy" rating and set a $20.00 price objective for the company in a report on Friday, July 14th. Three research analysts have rated the stock with a hold rating and five have assigned a buy rating to the company's stock. Cohu has a consensus rating of "Buy" and an average price target of $23.00.
COPYRIGHT VIOLATION WARNING: This report was first reported by American Banking News and is the sole property of of American Banking News. If you are reading this report on another publication, it was illegally copied and reposted in violation of United States and international copyright laws. The original version of this report can be viewed at https://www.americanbankingnews.com/2017/11/02/cohu-inc-cohu-issues-quarterly-earnings-results.html.
In other news, VP Hock Woo Chiang sold 10,844 shares of the firm's stock in a transaction dated Thursday, August 31st. The stock was sold at an average price of $18.77, for a total transaction of $203,541.88. Following the transaction, the vice president now directly owns 90,332 shares of the company's stock, valued at $1,695,531.64. The sale was disclosed in a legal filing with the Securities & Exchange Commission, which can be accessed through this link. Also, Director James A. Donahue sold 75,000 shares of the firm's stock in a transaction dated Tuesday, September 5th. The shares were sold at an average price of $18.72, for a total value of $1,404,000.00. Following the transaction, the director now directly owns 444,049 shares in the company, valued at $8,312,597.28. The disclosure for this sale can be found here. Insiders have sold 197,594 shares of company stock worth $4,306,222 in the last 90 days. Company insiders own 6.46% of the company's stock.
Cohu Company Profile
Cohu, Inc is a supplier of semiconductor test and inspection handlers, micro-electro mechanical system (MEMS) test modules, test contactors and thermal sub-systems used by global semiconductor manufacturers and test subcontractors. It develops, manufactures, sells and services a line of equipment capable of handling a range of integrated circuits and light-emitting diodes.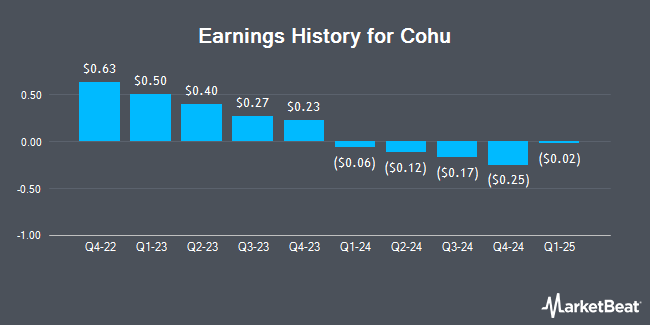 Receive News & Ratings for Cohu Inc. Daily - Enter your email address below to receive a concise daily summary of the latest news and analysts' ratings for Cohu Inc. and related companies with MarketBeat.com's FREE daily email newsletter.