Franklin Covey Company (FC) Set to Announce Earnings on Thursday
Franklin Covey Company (NYSE:FC) will post its quarterly earnings results after the market closes on Thursday, November 9th. Analysts expect Franklin Covey to post earnings of $0.39 per share for the quarter.
FC has been the subject of several recent research reports. Zacks Investment Research raised Franklin Covey from a "sell" rating to a "hold" rating in a research report on Monday, September 4th. BidaskClub cut Franklin Covey from a "sell" rating to a "strong sell" rating in a research report on Friday, July 28th. One investment analyst has rated the stock with a sell rating, five have issued a hold rating and one has assigned a buy rating to the company. Franklin Covey presently has a consensus rating of "Hold" and a consensus price target of $22.00.
In related news, Director Joel Clinton Peterson sold 1,792 shares of the stock in a transaction that occurred on Monday, October 2nd. The stock was sold at an average price of $20.33, for a total transaction of $36,431.36. Following the completion of the transaction, the director now directly owns 225,280 shares of the company's stock, valued at $4,579,942.40. The sale was disclosed in a legal filing with the Securities & Exchange Commission, which is accessible through the SEC website. Insiders have sold 5,377 shares of company stock valued at $104,045 over the last ninety days. 33.50% of the stock is owned by insiders.
An institutional investor recently raised its position in Franklin Covey stock. The Manufacturers Life Insurance Company boosted its stake in shares of Franklin Covey Company (NYSE:FC) by 9.0% in the 2nd quarter, according to its most recent Form 13F filing with the SEC. The fund owned 8,948 shares of the business services provider's stock after purchasing an additional 740 shares during the period. The Manufacturers Life Insurance Company owned 0.06% of Franklin Covey worth $172,000 as of its most recent filing with the SEC. 52.14% of the stock is currently owned by hedge funds and other institutional investors.
TRADEMARK VIOLATION NOTICE: This article was first published by American Banking News and is the property of of American Banking News. If you are accessing this article on another publication, it was illegally stolen and republished in violation of US and international trademark and copyright legislation. The original version of this article can be viewed at https://www.americanbankingnews.com/2017/11/02/franklin-covey-company-fc-set-to-announce-earnings-on-thursday.html.
Franklin Covey Company Profile
Franklin Covey Co is a global company specializing in performance improvement. The Company's segments are Direct Offices, Strategic Markets, Education practice and International Licensees. The Direct Offices segment consists of its geographic sales offices that serve the United States and Canada, its international sales offices located in Japan, the United Kingdom and Australia, and its public programs group.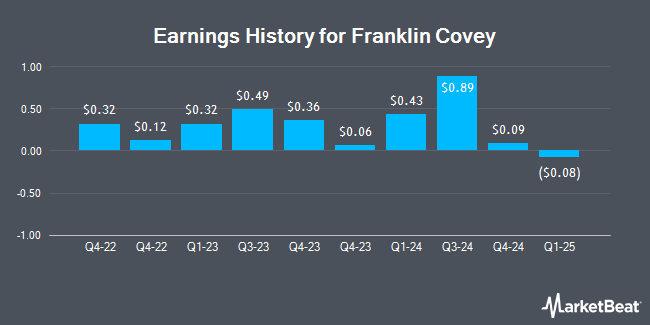 Receive News & Ratings for Franklin Covey Company Daily - Enter your email address below to receive a concise daily summary of the latest news and analysts' ratings for Franklin Covey Company and related companies with MarketBeat.com's FREE daily email newsletter.