Gladstone Investment Corporation (GAIN) Announces Quarterly Earnings Results, Beats Estimates By $0.01 EPS
Gladstone Investment Corporation (NASDAQ:GAIN) posted its quarterly earnings data on Wednesday. The investment management company reported $0.18 earnings per share for the quarter, topping the consensus estimate of $0.17 by $0.01, Bloomberg Earnings reports. Gladstone Investment Corporation had a net margin of 55.52% and a return on equity of 6.95%. The firm had revenue of $13.13 million during the quarter, compared to analysts' expectations of $12.22 million.
The firm also recently announced a special dividend, which will be paid on Friday, December 15th. Shareholders of record on Tuesday, December 5th will be issued a dividend of $0.06 per share. This represents a yield of 7.93%. The ex-dividend date is Monday, December 4th. Gladstone Investment Corporation's dividend payout ratio is presently 83.87%.
COPYRIGHT VIOLATION WARNING: This article was first published by American Banking News and is owned by of American Banking News. If you are reading this article on another publication, it was copied illegally and reposted in violation of US & international copyright & trademark laws. The legal version of this article can be viewed at https://www.americanbankingnews.com/2017/11/02/gladstone-investment-corporation-gain-announces-quarterly-earnings-results-beats-estimates-by-0-01-eps.html.
GAIN has been the subject of several research analyst reports. Zacks Investment Research cut shares of Gladstone Investment Corporation from a "hold" rating to a "sell" rating in a research report on Thursday, August 3rd. BidaskClub cut shares of Gladstone Investment Corporation from a "buy" rating to a "hold" rating in a research report on Friday, August 11th. Jefferies Group LLC restated a "hold" rating and issued a $9.00 price objective on shares of Gladstone Investment Corporation in a research report on Wednesday, August 16th. Finally, ValuEngine upgraded shares of Gladstone Investment Corporation from a "hold" rating to a "buy" rating in a research report on Friday, September 1st. Three equities research analysts have rated the stock with a hold rating and two have issued a buy rating to the stock. The company has an average rating of "Hold" and an average price target of $9.50.
About Gladstone Investment Corporation
Gladstone Investment Corporation is an externally managed, closed-end, non-diversified management investment company. The Company's investment objectives are to achieve and grow current income by investing in debt securities of established businesses that it believes will provide stable earnings and cash flow to pay expenses, make principal and interest payments on its outstanding indebtedness and make distributions to stockholders that grow over time, and provide its stockholders with long-term capital appreciation in the value of its assets by investing in equity securities, generally in combination with the aforementioned debt securities, of businesses that it believes can grow over time to permit it to sell its equity investments for capital gains.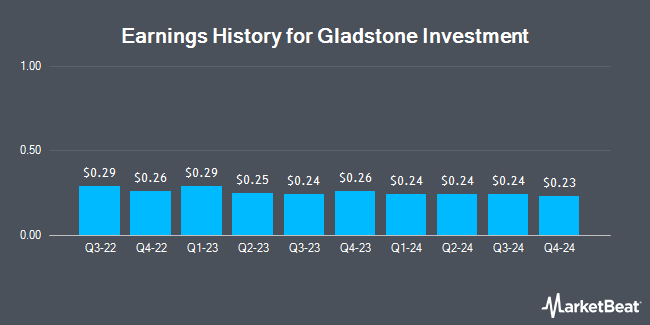 Receive News & Ratings for Gladstone Investment Corporation Daily - Enter your email address below to receive a concise daily summary of the latest news and analysts' ratings for Gladstone Investment Corporation and related companies with MarketBeat.com's FREE daily email newsletter.