ITT Inc. (ITT) Releases FY17 Earnings Guidance
ITT Inc. (NYSE:ITT) updated its FY17 earnings guidance on Thursday. The company provided earnings per share (EPS) guidance of $2.50-2.55 for the period, compared to the Thomson Reuters consensus estimate of $2.47. The company issued revenue guidance of $2.50-2.53 billion, compared to the consensus revenue estimate of $2.48 billion.
Several equities research analysts have weighed in on the company. BidaskClub cut ITT from a buy rating to a hold rating in a research note on Tuesday, July 25th. Deutsche Bank AG raised ITT from a hold rating to a buy rating and upped their target price for the company from $46.00 to $55.00 in a research note on Monday, October 9th. Cowen and Company reaffirmed a buy rating and set a $50.00 target price on shares of ITT in a research note on Thursday, September 21st. Stifel Nicolaus reaffirmed a buy rating and set a $49.00 target price on shares of ITT in a research note on Wednesday, August 16th. Finally, Zacks Investment Research cut ITT from a buy rating to a hold rating in a research note on Wednesday, August 2nd. Two investment analysts have rated the stock with a sell rating, two have assigned a hold rating and eleven have issued a buy rating to the stock. The stock currently has an average rating of Buy and a consensus target price of $48.50.
ITT (NYSE:ITT) last posted its earnings results on Thursday, November 2nd. The conglomerate reported $0.66 earnings per share for the quarter, beating the Thomson Reuters' consensus estimate of $0.61 by $0.05. ITT had a net margin of 8.64% and a return on equity of 14.17%. The firm had revenue of $645.00 million during the quarter, compared to the consensus estimate of $605.06 million. During the same quarter last year, the firm earned $0.58 EPS. The firm's revenue for the quarter was up 10.9% on a year-over-year basis.
The business also recently announced a quarterly dividend, which will be paid on Friday, December 29th. Investors of record on Friday, December 8th will be issued a $0.128 dividend. The ex-dividend date is Thursday, December 7th. This represents a $0.51 annualized dividend and a yield of 1.10%. ITT's dividend payout ratio (DPR) is presently 21.70%.
In related news, insider Mary Elizabeth Gustafsson sold 5,000 shares of ITT stock in a transaction that occurred on Tuesday, September 19th. The shares were sold at an average price of $42.90, for a total value of $214,500.00. The transaction was disclosed in a filing with the Securities & Exchange Commission, which is available at the SEC website. 1.20% of the stock is currently owned by company insiders.
WARNING: This article was first published by American Banking News and is the property of of American Banking News. If you are accessing this article on another website, it was illegally copied and reposted in violation of U.S. and international trademark & copyright legislation. The correct version of this article can be viewed at https://www.americanbankingnews.com/2017/11/02/itt-inc-itt-releases-fy17-earnings-guidance.html.
About ITT
ITT Corporation (ITT) is a diversified manufacturer of engineered critical components and technology solutions for industrial markets. The Company's product and service offerings are organized in four segments: Industrial Process, Motion Technologies, Interconnect Solutions and Control Technologies. Industrial Process manufactures engineered fluid process equipment, and is a provider of plant optimization, solutions and aftermarket services and parts.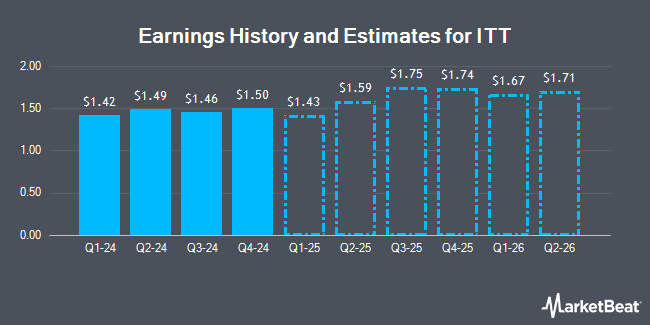 Receive News & Ratings for ITT Inc. Daily - Enter your email address below to receive a concise daily summary of the latest news and analysts' ratings for ITT Inc. and related companies with MarketBeat.com's FREE daily email newsletter.