Materialise NV (MTLS) to Release Quarterly Earnings on Thursday
Materialise NV (NASDAQ:MTLS) is scheduled to issue its quarterly earnings data before the market opens on Thursday, November 9th. Analysts expect the company to announce earnings of ($0.01) per share for the quarter.
Materialise NV (NASDAQ:MTLS) last released its quarterly earnings results on Tuesday, August 8th. The software maker reported ($0.02) earnings per share for the quarter, missing the consensus estimate of ($0.01) by ($0.01). The firm had revenue of $33.61 million for the quarter, compared to analysts' expectations of $31.90 million. Materialise NV had a negative net margin of 0.99% and a negative return on equity of 1.59%. The business's quarterly revenue was up 21.8% compared to the same quarter last year. During the same quarter in the prior year, the business earned ($0.01) EPS. On average, analysts expect Materialise NV to post $-0.03 EPS for the current fiscal year and $0.2 EPS for the next fiscal year.
MTLS has been the subject of several research reports. Piper Jaffray Companies reiterated a "buy" rating and set a $20.00 price objective on shares of Materialise NV in a research note on Friday, October 13th. Zacks Investment Research lowered Materialise NV from a "buy" rating to a "hold" rating in a research note on Wednesday, September 6th. BidaskClub upgraded Materialise NV from a "hold" rating to a "buy" rating in a research note on Wednesday, July 12th. Finally, Credit Suisse Group boosted their price objective on Materialise NV from $13.00 to $14.00 and gave the stock an "outperform" rating in a research note on Friday, August 11th. Five analysts have rated the stock with a buy rating, The company has an average rating of "Buy" and an average price target of $14.75.
WARNING: This article was posted by American Banking News and is the sole property of of American Banking News. If you are viewing this article on another website, it was copied illegally and reposted in violation of U.S. & international trademark and copyright legislation. The original version of this article can be accessed at https://www.americanbankingnews.com/2017/11/02/materialise-nv-mtls-to-release-quarterly-earnings-on-thursday.html.
About Materialise NV
Materialise NV is a Belgium-based company engaged in the software industry. The Company is a provider of additive manufacturing software and of three dimensional (3D) printing services. Materialise NV incorporates of 3D printing experience into a range of software solution and 3D printing services, through which the Company seeks to form the backbone of the 3D printing industry.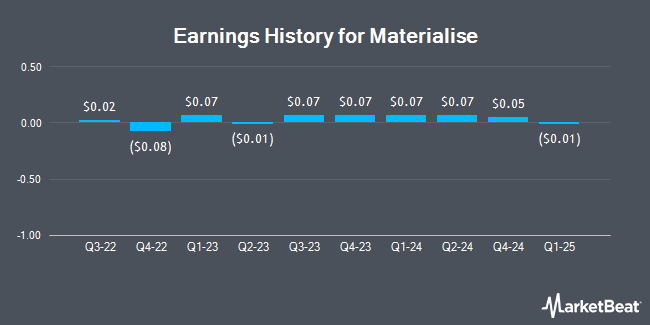 Receive News & Ratings for Materialise NV Daily - Enter your email address below to receive a concise daily summary of the latest news and analysts' ratings for Materialise NV and related companies with MarketBeat.com's FREE daily email newsletter.