Microvision, Inc. (MVIS) Releases Earnings Results, Hits Estimates
Microvision, Inc. (NASDAQ:MVIS) posted its earnings results on Tuesday. The electronics maker reported ($0.07) earnings per share for the quarter, meeting the Zacks' consensus estimate of ($0.07), Bloomberg Earnings reports. Microvision had a negative return on equity of 677.56% and a negative net margin of 224.93%. The company had revenue of $6.09 million for the quarter, compared to analyst estimates of $5.24 million. During the same quarter last year, the company earned ($0.08) earnings per share. The company's revenue for the quarter was up 52.3% on a year-over-year basis.
COPYRIGHT VIOLATION NOTICE: This article was first reported by American Banking News and is owned by of American Banking News. If you are reading this article on another site, it was illegally stolen and reposted in violation of U.S. and international copyright legislation. The original version of this article can be viewed at https://www.americanbankingnews.com/2017/11/02/microvision-inc-mvis-releases-earnings-results-hits-estimates.html.
A number of research analysts have recently weighed in on the company. Zacks Investment Research lowered Microvision from a "buy" rating to a "hold" rating in a report on Thursday, August 10th. Northland Securities set a $3.00 target price on Microvision and gave the company a "buy" rating in a report on Friday, August 4th. S&P Equity Research increased their price target on Microvision from $1.75 to $2.22 in a research report on Thursday. ValuEngine raised Microvision from a "sell" rating to a "hold" rating in a research report on Friday, July 28th. Finally, HC Wainwright reaffirmed a "buy" rating and set a $3.50 price target on shares of Microvision in a research report on Thursday, September 14th. Two research analysts have rated the stock with a hold rating and three have assigned a buy rating to the company's stock. The company currently has an average rating of "Buy" and a consensus target price of $3.24.
A hedge fund recently raised its stake in Microvision stock. State Street Corp boosted its holdings in Microvision, Inc. (NASDAQ:MVIS) by 2,126.7% during the 2nd quarter, according to its most recent 13F filing with the Securities and Exchange Commission. The institutional investor owned 857,452 shares of the electronics maker's stock after acquiring an additional 818,945 shares during the quarter. State Street Corp owned 1.20% of Microvision worth $1,816,000 at the end of the most recent quarter. 27.43% of the stock is owned by institutional investors and hedge funds.
About Microvision
Microvision, Inc is a developer of laser beam scanning (LBS) technology. The Company markets its technology under the brand name, PicoP. It has developed PicoP scanning technology that can be adopted by its customers to create high-resolution miniature projection, and three-dimensional sensing and image capture solutions that use laser diodes as the light source.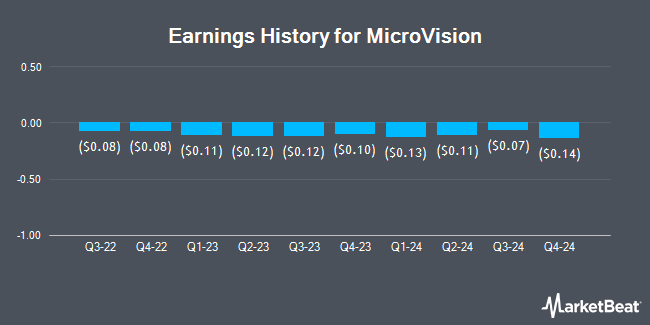 Receive News & Ratings for Microvision Inc. Daily - Enter your email address below to receive a concise daily summary of the latest news and analysts' ratings for Microvision Inc. and related companies with MarketBeat.com's FREE daily email newsletter.