NorthWestern Corporation Plans Quarterly Dividend of $0.53 (NWE)
NorthWestern Corporation (NYSE:NWE) declared a quarterly dividend on Thursday, November 2nd, Wall Street Journal reports. Stockholders of record on Friday, December 15th will be paid a dividend of 0.525 per share by the utilities provider on Friday, December 29th. This represents a $2.10 annualized dividend and a dividend yield of 3.54%. The ex-dividend date is Thursday, December 14th.
NorthWestern Corporation has raised its dividend payment by an average of 9.6% annually over the last three years and has raised its dividend every year for the last 8 years. NorthWestern Corporation has a payout ratio of 61.9% meaning its dividend is sufficiently covered by earnings. Research analysts expect NorthWestern Corporation to earn $3.43 per share next year, which means the company should continue to be able to cover its $2.10 annual dividend with an expected future payout ratio of 61.2%.
NorthWestern Corporation (NYSE:NWE) last issued its earnings results on Wednesday, November 1st. The utilities provider reported $0.74 earnings per share for the quarter, missing analysts' consensus estimates of $0.75 by ($0.01). NorthWestern Corporation had a return on equity of 9.31% and a net margin of 13.17%. The firm had revenue of $309.90 million for the quarter, compared to analyst estimates of $305.60 million. During the same period in the previous year, the company earned $0.68 earnings per share. NorthWestern Corporation's revenue for the quarter was up 3.0% compared to the same quarter last year.
In related news, CEO Robert C. Rowe sold 3,626 shares of the company's stock in a transaction on Friday, September 1st. The stock was sold at an average price of $60.43, for a total transaction of $219,119.18. The sale was disclosed in a filing with the Securities & Exchange Commission, which is accessible through the SEC website. Corporate insiders own 1.33% of the company's stock.
ILLEGAL ACTIVITY NOTICE: This story was first published by American Banking News and is owned by of American Banking News. If you are reading this story on another website, it was stolen and reposted in violation of US and international copyright and trademark legislation. The legal version of this story can be read at https://www.americanbankingnews.com/2017/11/02/northwestern-corporation-plans-quarterly-dividend-of-0-53-nwe.html.
NWE has been the topic of a number of research reports. Williams Capital upped their target price on NorthWestern Corporation from $61.00 to $64.00 and gave the stock a "hold" rating in a research report on Wednesday, July 5th. Zacks Investment Research raised NorthWestern Corporation from a "hold" rating to a "buy" rating and set a $68.00 target price on the stock in a research report on Friday, July 7th. BidaskClub lowered NorthWestern Corporation from a "hold" rating to a "sell" rating in a research report on Saturday, July 8th. Credit Suisse Group lowered NorthWestern Corporation from a "neutral" rating to an "underperform" rating and lowered their target price for the stock from $62.00 to $60.00 in a research report on Monday, July 24th. Finally, KeyCorp reaffirmed a "hold" rating on shares of NorthWestern Corporation in a research report on Friday, October 20th. Four analysts have rated the stock with a sell rating and two have assigned a hold rating to the stock. The stock has an average rating of "Sell" and a consensus target price of $58.50.
NorthWestern Corporation Company Profile
NorthWestern Corporation, doing business as North-Western Energy, provides electricity and natural gas. The Company's segments are Electric operations, Natural gas operations and All other. As of December 31, 2016, the Company provided electricity and natural gas to approximately 709,600 customers in Montana, South Dakota and Nebraska.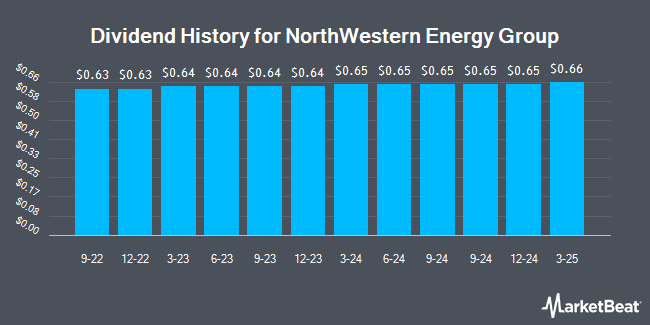 Receive News & Ratings for NorthWestern Corporation Daily - Enter your email address below to receive a concise daily summary of the latest news and analysts' ratings for NorthWestern Corporation and related companies with MarketBeat.com's FREE daily email newsletter.