South32 Ltd (S32) Receives Average Rating of "Hold" from Brokerages
Shares of South32 Ltd (LON:S32) have earned a consensus rating of "Hold" from the eleven ratings firms that are currently covering the company, Marketbeat Ratings reports. One investment analyst has rated the stock with a sell recommendation, seven have assigned a hold recommendation and three have issued a buy recommendation on the company. The average 1-year price target among brokers that have issued ratings on the stock in the last year is GBX 172.20 ($2.27).
S32 has been the topic of a number of analyst reports. Macquarie reiterated an "outperform" rating and set a GBX 156 ($2.06) target price (down previously from GBX 200 ($2.64)) on shares of South32 in a report on Friday, August 25th. Citigroup Inc. cut South32 to a "neutral" rating and lowered their target price for the company from GBX 180 ($2.38) to GBX 170 ($2.24) in a report on Friday, July 21st. Deutsche Bank AG increased their target price on South32 from GBX 160 ($2.11) to GBX 180 ($2.38) and gave the company a "hold" rating in a report on Sunday, August 27th. Liberum Capital reiterated a "sell" rating and set a GBX 90 ($1.19) target price on shares of South32 in a report on Thursday, August 24th. Finally, Barclays PLC restated an "overweight" rating and set a GBX 210 ($2.77) price objective on shares of South32 in a report on Friday, July 14th.
COPYRIGHT VIOLATION NOTICE: This story was first posted by American Banking News and is owned by of American Banking News. If you are viewing this story on another site, it was stolen and republished in violation of U.S. and international trademark and copyright legislation. The original version of this story can be read at https://www.americanbankingnews.com/2017/11/02/south32-ltd-s32-receives-average-rating-of-hold-from-brokerages.html.
The firm also recently disclosed a dividend, which was paid on Thursday, October 12th. Stockholders of record on Thursday, September 14th were issued a dividend of $0.06 per share. This is a boost from South32's previous dividend of $0.04. The ex-dividend date of this dividend was Thursday, September 14th. This represents a dividend yield of 2.78%.
South32 Company Profile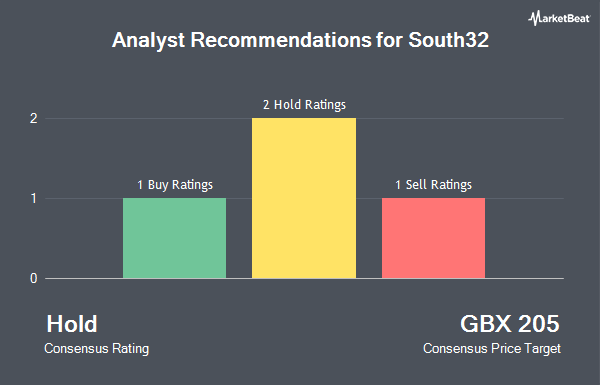 Receive News & Ratings for South32 Ltd Daily - Enter your email address below to receive a concise daily summary of the latest news and analysts' ratings for South32 Ltd and related companies with MarketBeat.com's FREE daily email newsletter.