Stantec Inc. (STN) to Release Quarterly Earnings on Thursday
Stantec Inc. (NYSE:STN) (TSE:STN) is scheduled to be issuing its quarterly earnings data before the market opens on Thursday, November 9th. Analysts expect the company to announce earnings of $0.45 per share for the quarter.
Stantec (NYSE:STN) (TSE:STN) last released its quarterly earnings data on Wednesday, August 9th. The business services provider reported $0.38 earnings per share for the quarter, beating the Zacks' consensus estimate of $0.35 by $0.03. The business had revenue of $891.49 million during the quarter, compared to analyst estimates of $902.78 million. Stantec had a return on equity of 10.67% and a net margin of 2.31%. The company's revenue was up 14.7% on a year-over-year basis. During the same quarter last year, the business posted $0.37 EPS. On average, analysts expect Stantec to post $1.56 EPS for the current fiscal year and $1.84 EPS for the next fiscal year.
The firm also recently announced a quarterly dividend, which was paid on Thursday, October 12th. Stockholders of record on Friday, September 29th were paid a dividend of $0.10 per share. This is an increase from Stantec's previous quarterly dividend of $0.09. The ex-dividend date was Thursday, September 28th. This represents a $0.40 annualized dividend and a dividend yield of 1.40%. Stantec's dividend payout ratio is 51.28%.
Several equities research analysts have recently weighed in on STN shares.
Zacks Investment Research
upgraded shares of Stantec from a "hold" rating to a "buy" rating and set a $28.00 target price for the company in a research note on Thursday, July 13th. BidaskClub downgraded shares of Stantec from a "hold" rating to a "sell" rating in a research note on Wednesday, August 9th. TheStreet upgraded shares of Stantec from a "c" rating to a "b-" rating in a research note on Monday, August 14th. Finally, Royal Bank Of Canada started coverage on shares of Stantec in a research note on Monday, October 23rd. They set a "sector perform" rating and a $40.00 target price for the company. Five equities research analysts have rated the stock with a hold rating and two have given a buy rating to the company's stock. The company has a consensus rating of "Hold" and an average price target of $33.00.
TRADEMARK VIOLATION WARNING: This report was originally reported by American Banking News and is owned by of American Banking News. If you are accessing this report on another website, it was copied illegally and republished in violation of United States & international trademark & copyright legislation. The original version of this report can be viewed at https://www.americanbankingnews.com/2017/11/02/stantec-inc-stn-to-release-quarterly-earnings-on-thursday.html.
About Stantec
Stantec Inc is a provider of professional services in the area of infrastructure and facilities for clients in the public and private sectors. The Company's operates through four segments Consulting Services-Canada, Consulting Services-United States, Consulting Services-Global and Construction Services.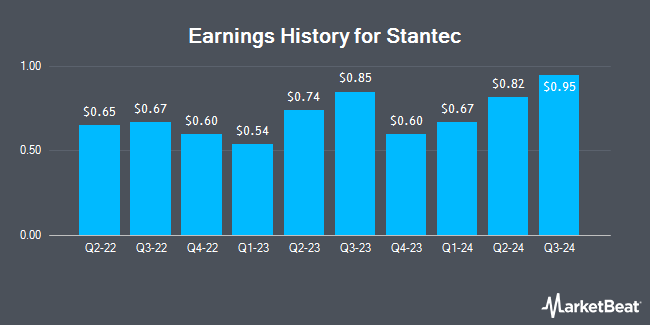 Receive News & Ratings for Stantec Inc. Daily - Enter your email address below to receive a concise daily summary of the latest news and analysts' ratings for Stantec Inc. and related companies with MarketBeat.com's FREE daily email newsletter.