Wi-LAN Inc (QTRH) to Release Quarterly Earnings on Thursday
Wi-LAN Inc (NASDAQ:QTRH) is scheduled to be issuing its quarterly earnings data before the market opens on Thursday, November 9th. Analysts expect the company to announce earnings of $0.27 per share for the quarter.
The business also recently announced a quarterly dividend, which was paid on Thursday, October 5th. Shareholders of record on Friday, September 15th were issued a $0.01 dividend. This represents a $0.04 annualized dividend and a yield of 2.12%. This is an increase from Wi-LAN's previous quarterly dividend of $0.01. The ex-dividend date was Thursday, September 14th. Wi-LAN's payout ratio is 80.02%.
QTRH has been the topic of several analyst reports. Zacks Investment Research raised Wi-LAN from a "hold" rating to a "buy" rating and set a $2.00 target price on the stock in a report on Thursday, October 19th. ValuEngine raised Wi-LAN from a "sell" rating to a "hold" rating in a report on Monday, October 2nd. One investment analyst has rated the stock with a hold rating and three have issued a buy rating to the company. The company has a consensus rating of "Buy" and a consensus target price of $3.50.
WARNING: This story was published by American Banking News and is owned by of American Banking News. If you are reading this story on another publication, it was stolen and republished in violation of US and international copyright & trademark legislation. The correct version of this story can be read at https://www.americanbankingnews.com/2017/11/02/wi-lan-inc-qtrh-to-release-quarterly-earnings-on-thursday.html.
About Wi-LAN
Quarterhill Inc, formerly Wi-LAN Inc, is a Canada-based investment holding company focused on growing its business by acquiring technology companies in the Industrial Internet of Things (IIoT) across multiple verticals. The Company targets companies with a broad range of products and services that capture, analyze and interpret data, and that have financial performance, management teams, intellectual property underpinnings and opportunities to develop long-term recurring and growing revenue streams.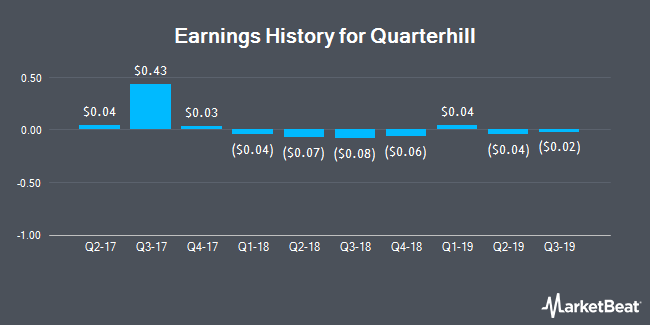 Receive News & Ratings for Wi-LAN Inc Daily - Enter your email address below to receive a concise daily summary of the latest news and analysts' ratings for Wi-LAN Inc and related companies with MarketBeat.com's FREE daily email newsletter.