Zacks: Analysts Expect SITO Mobile, Ltd. (SITO) Will Announce Quarterly Sales of $11.10 Million
Equities analysts predict that SITO Mobile, Ltd. (NASDAQ:SITO) will announce sales of $11.10 million for the current quarter, Zacks reports. Two analysts have provided estimates for SITO Mobile's earnings, with the highest sales estimate coming in at $11.20 million and the lowest estimate coming in at $11.00 million. SITO Mobile posted sales of $10.34 million in the same quarter last year, which would indicate a positive year over year growth rate of 7.4%. The firm is scheduled to report its next quarterly earnings report on Monday, January 1st.
According to Zacks, analysts expect that SITO Mobile will report full-year sales of $11.10 million for the current year, with estimates ranging from $40.90 million to $41.00 million. For the next year, analysts anticipate that the firm will report sales of $51.20 million per share. Zacks' sales averages are a mean average based on a survey of research firms that that provide coverage for SITO Mobile.
SITO Mobile (NASDAQ:SITO) last issued its earnings results on Thursday, August 17th. The Wireless communications provider reported ($0.06) earnings per share (EPS) for the quarter, missing the Zacks' consensus estimate of ($0.02) by ($0.04). SITO Mobile had a negative return on equity of 24.74% and a negative net margin of 20.97%. The firm had revenue of $10.80 million for the quarter, compared to analysts' expectations of $10.75 million.
SITO has been the topic of several research reports. Zacks Investment Research lowered SITO Mobile from a "hold" rating to a "sell" rating in a research report on Thursday, July 13th. ValuEngine raised SITO Mobile from a "sell" rating to a "hold" rating in a report on Saturday, July 22nd. Maxim Group set a $4.00 price objective on SITO Mobile and gave the company a "buy" rating in a report on Tuesday, August 15th. Ladenburg Thalmann Financial Services reissued a "buy" rating and set a $7.80 price objective on shares of SITO Mobile in a report on Wednesday, August 16th. Finally, Craig Hallum lowered SITO Mobile from a "buy" rating to a "hold" rating in a report on Friday, August 11th. Three equities research analysts have rated the stock with a hold rating and five have assigned a buy rating to the company. The stock currently has an average rating of "Buy" and an average price target of $7.96.
TRADEMARK VIOLATION NOTICE: "Zacks: Analysts Expect SITO Mobile, Ltd. (SITO) Will Announce Quarterly Sales of $11.10 Million" was first reported by American Banking News and is the property of of American Banking News. If you are accessing this piece on another site, it was stolen and republished in violation of U.S. & international trademark and copyright law. The legal version of this piece can be viewed at https://www.americanbankingnews.com/2017/11/02/zacks-analysts-expect-sito-mobile-ltd-sito-will-announce-quarterly-sales-of-11-10-million.html.
In other news, Director Chester Petrow acquired 68,800 shares of SITO Mobile stock in a transaction on Thursday, August 24th. The stock was bought at an average price of $3.98 per share, for a total transaction of $273,824.00. Following the transaction, the director now owns 286,968 shares of the company's stock, valued at $1,142,132.64. The purchase was disclosed in a filing with the SEC, which is available at this hyperlink. Company insiders own 6.50% of the company's stock.
An institutional investor recently raised its position in SITO Mobile stock. Regentatlantic Capital LLC boosted its holdings in shares of SITO Mobile, Ltd. (NASDAQ:SITO) by 9.5% in the second quarter, according to its most recent filing with the Securities and Exchange Commission (SEC). The institutional investor owned 88,079 shares of the Wireless communications provider's stock after purchasing an additional 7,673 shares during the period. Regentatlantic Capital LLC owned 0.43% of SITO Mobile worth $327,000 as of its most recent SEC filing. Institutional investors and hedge funds own 13.80% of the company's stock.
SITO Mobile Company Profile
SITO Mobile, Ltd. operates a mobile location-based advertising platform serving businesses, advertisers and brands. The Company's offerings include SITO Location-Based Advertising and SITO Mobile Messaging. SITO Location-Based Advertising delivers display advertisements and videos on behalf of advertisers, including various features, such as Geo-fencing, Verified walk-in, Behavioral Targeting, and Analytics and Optimization.
Get a free copy of the Zacks research report on SITO Mobile (SITO)
For more information about research offerings from Zacks Investment Research, visit Zacks.com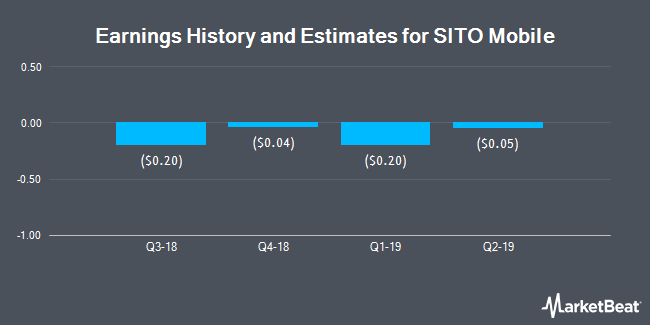 Receive News & Ratings for SITO Mobile Ltd. Daily - Enter your email address below to receive a concise daily summary of the latest news and analysts' ratings for SITO Mobile Ltd. and related companies with MarketBeat.com's FREE daily email newsletter.