AAON, Inc. (AAON) Issues Quarterly Earnings Results
AAON, Inc. (NASDAQ:AAON) posted its quarterly earnings results on Thursday. The construction company reported $0.28 earnings per share (EPS) for the quarter, missing the consensus estimate of $0.29 by ($0.01), Briefing.com reports. AAON had a net margin of 12.77% and a return on equity of 23.17%. The business had revenue of $113.67 million for the quarter, compared to analysts' expectations of $111.76 million. During the same quarter in the previous year, the company earned $0.29 earnings per share. The business's quarterly revenue was up 8.7% on a year-over-year basis.
Shares of AAON (NASDAQ AAON) traded up $0.05 during trading hours on Friday, hitting $34.45. 151,794 shares of the stock traded hands, compared to its average volume of 132,675. The stock has a market capitalization of $1.80 billion, a P/E ratio of 36.54 and a beta of 1.01.
In other news, Director Jack E. Short sold 5,062 shares of the firm's stock in a transaction that occurred on Thursday, September 7th. The shares were sold at an average price of $31.91, for a total value of $161,528.42. Following the completion of the transaction, the director now owns 54,336 shares of the company's stock, valued at $1,733,861.76. The transaction was disclosed in a legal filing with the SEC, which is available at the SEC website. Company insiders own 22.25% of the company's stock.
Several brokerages have recently commented on AAON. BidaskClub downgraded shares of AAON from a "sell" rating to a "strong sell" rating in a research note on Friday, August 18th. Zacks Investment Research raised shares of AAON from a "sell" rating to a "hold" rating in a research note on Friday, August 25th.
TRADEMARK VIOLATION WARNING: "AAON, Inc. (AAON) Issues Quarterly Earnings Results" was originally reported by American Banking News and is owned by of American Banking News. If you are viewing this article on another publication, it was stolen and republished in violation of US and international trademark and copyright laws. The correct version of this article can be viewed at https://www.americanbankingnews.com/2017/11/03/aaon-inc-aaon-issues-quarterly-earnings-results.html.
About AAON
AAON, Inc is engaged in the engineering, manufacturing, marketing and sale of air conditioning and heating equipment consisting of standard, semi-custom and custom rooftop units, chillers, packaged outdoor mechanical rooms, air handling units, makeup air units, energy recovery units, condensing units, geothermal/water-source heat pumps and coils.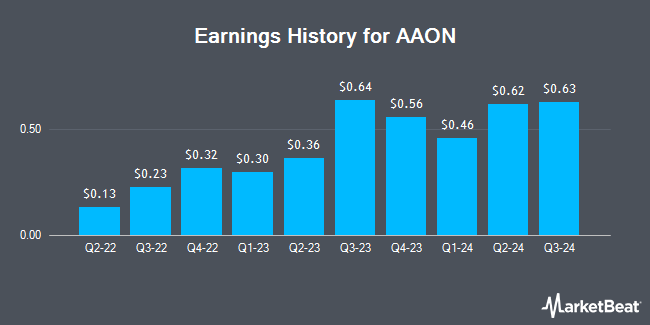 Receive News & Ratings for AAON Inc. Daily - Enter your email address below to receive a concise daily summary of the latest news and analysts' ratings for AAON Inc. and related companies with MarketBeat.com's FREE daily email newsletter.