Enviva Partners, LP (EVA) to Issue Dividend Increase – $0.62 Per Share
Enviva Partners, LP (NYSE:EVA) declared a quarterly dividend on Friday, November 3rd, Wall Street Journal reports. Stockholders of record on Wednesday, November 15th will be paid a dividend of 0.615 per share by the energy company on Wednesday, November 29th. This represents a $2.46 dividend on an annualized basis and a dividend yield of 8.41%. The ex-dividend date is Tuesday, November 14th. This is an increase from Enviva Partners,'s previous quarterly dividend of $0.57.
Enviva Partners, has a payout ratio of 268.2% meaning the company cannot currently cover its dividend with earnings alone and is relying on its balance sheet to cover its dividend payments. Analysts expect Enviva Partners, to earn $1.61 per share next year, which means the company may not be able to cover its $2.28 annual dividend with an expected future payout ratio of 141.6%.
Shares of Enviva Partners, (NYSE:EVA) traded up $0.35 during trading on Friday, hitting $29.35. 44,330 shares of the stock were exchanged, compared to its average volume of 106,431. The stock has a market capitalization of $418.68 million, a PE ratio of 44.01 and a beta of 1.11.
Enviva Partners, (NYSE:EVA) last posted its earnings results on Thursday, August 3rd. The energy company reported $0.11 EPS for the quarter, missing the Thomson Reuters' consensus estimate of $0.33 by ($0.22). The company had revenue of $126.90 million for the quarter, compared to the consensus estimate of $142.08 million. Enviva Partners, had a return on equity of 6.46% and a net margin of 0.96%. Enviva Partners,'s quarterly revenue was up 6.0% compared to the same quarter last year. During the same quarter last year, the business earned $0.47 EPS. equities research analysts forecast that Enviva Partners, will post 0.88 EPS for the current fiscal year.
Several equities analysts have issued reports on EVA shares. Zacks Investment Research downgraded Enviva Partners, from a "hold" rating to a "sell" rating in a research report on Tuesday, July 18th. Citigroup Inc. upgraded Enviva Partners, from a "neutral" rating to a "buy" rating and set a $34.00 price objective for the company in a research report on Friday, September 22nd. Finally, BidaskClub upgraded Enviva Partners, from a "hold" rating to a "buy" rating in a research report on Saturday, August 5th. One analyst has rated the stock with a hold rating, four have given a buy rating and one has given a strong buy rating to the stock. The stock has an average rating of "Buy" and an average price target of $33.50.
ILLEGAL ACTIVITY WARNING: "Enviva Partners, LP (EVA) to Issue Dividend Increase – $0.62 Per Share" was reported by American Banking News and is the property of of American Banking News. If you are reading this story on another website, it was stolen and republished in violation of US and international trademark and copyright laws. The correct version of this story can be read at https://www.americanbankingnews.com/2017/11/03/enviva-partners-lp-eva-to-issue-dividend-increase-0-62-per-share.html.
About Enviva Partners,
Enviva Partners, LP is a supplier of utility-grade wood pellets to power generators. The Company procures wood fiber and processes it into utility-grade wood pellets and loads the finished wood pellets into railcars, trucks and barges that are transported to deep-water marine terminals, where they are received, stored and loaded onto oceangoing vessels for transport to the Company's principally Northern European customers.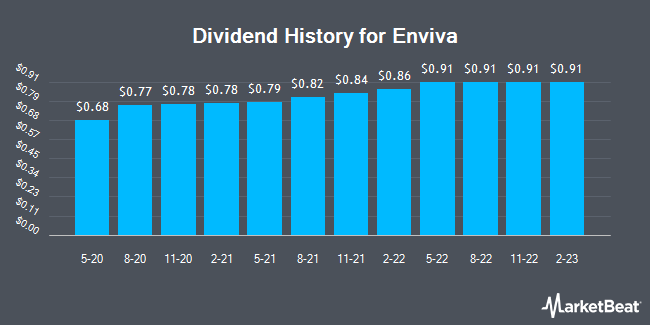 Receive News & Ratings for Enviva Partners LP Daily - Enter your email address below to receive a concise daily summary of the latest news and analysts' ratings for Enviva Partners LP and related companies with MarketBeat.com's FREE daily email newsletter.